Don't get 'catfished:' Tips for vetting a stranger's online identity
All you need is a little prowess and search knowhow to expose someone online. It's not creepy, it's for your own safety.
For my Airbnb snooping, I searched for the host's first name and her alleged neighborhood, which led me to a LinkedIn page where I found out where she worked (it was in the same neighborhood) and where she went to college. Those extra pieces of data opened up my search immensely.
Don't rule out nicknames, either. For example, if you meet someone named "Liz," try "Elizabeth," "Betsy," "Eliza," "Beth," or "Betty," coupled with a tidbit you already know.
Image searches
If you have someone's profile picture or another such photo, try using it to conduct a Google image search. Drag and drop the photo into the Google search bar, and see what pops up. Some catfish steal photos from other profiles and palm them off as their own; an image search will reveal other places on the Web where that photo has appeared. If it shows up as a profile picture on a few different Facebook pages, for example, or if the same photo appears in multiple apartment listings or ads, consider that a red flag.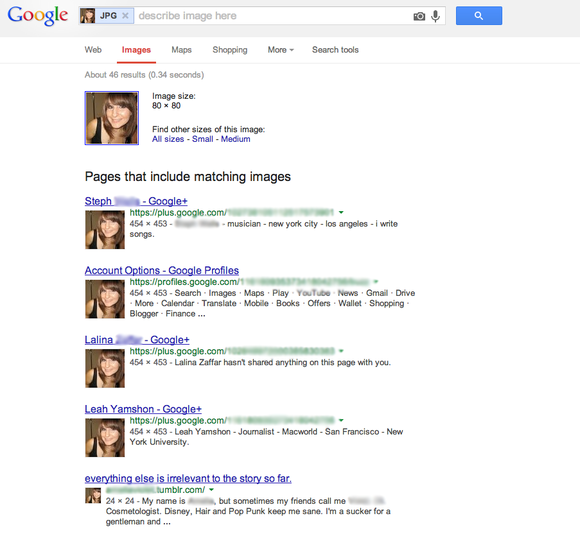 An image search of my old profile pic shows where else that image appears.
Social media stalking
If your Google search turns up some social media accounts owned by your person of interest, take a look at those accounts, and use common sense. A sparse profile with a quiet wall, a small number of friends, and no photos with other people—mostly selfies—might be an indication of a phony profile.
You should also cross-reference any communication handles—such as an email address or username—with other social media accounts, especially if you haven't found a full name yet. For example, a Google search of my personal Instagram handle also yields my Tumblr account, as I share the username between the two. KnowEm is an excellent place to investigate usernames: Type in a screen name, username, email address, or vanity URL, and KnowEm will tell you what services have accounts registered under that name.
Free public records
Before you invite a stranger to your home or workplace, check public records—many of them are free to access online. The Free Public Records Search Directory will point you in the right direction: It provides links to public institutions for you to start your search. Daters should consider looking into bankruptcy claims, and renters might want to scope out property info. For the big no-no's—criminal and sex offender records—check your state's government sites. If you're hiring a babysitter or selling something worth a lot of money on Craigslist, it may be worth coughing up the $8 to do a criminal records search on the person.