Apple Music FAQ: The ins and outs of Apple's new streaming music service
What kind of playlists can I create? Will Apple Music replace iTunes? What will happen to my Beats subscription? We have the answers, and more.
The Beats 1 DJs also select one track as their daily World Record, and that song gets played hourly on the half-hour mark.
Besides the daily rotation of DJs, Beats 1 includes special programming from other artists as well—like a collection of mixtape tracks from St. Vincent.
How do I add songs from Beats 1 to playlists? Heard a song on Beats 1 that's so good, you know you'll want to listen to it again? Tap the More button while the song is still playing, then select "Add to My Music" or "Add to a Playlist."
I spent years perfecting my playlists on Spotify and iTunes. Can I import these into Apple Music? Your iTunes playlists will automatically be pulled into Apple Music when you set up your account, as will the rest of your iTunes library. If you use Beats Music and switch your subscription to Apple Music, your playlists will sync over.
However, if you use Spotify, Rdio, or any other music subscription service, you're out of luck—there is no easy way to directly import your playlists into Apple Music. Add "automatic playlist bridge between non-Apple streaming services" to our Apple Music wish list.
Will Apple Music have the ability to make Genius playlists with saved music from the service, like I can do with my own music in iTunes? Maybe. Our friends over at iMore report that you just need to configure this in iOS 8.4's settings, however not all of us at Macworld have the Genius option on our devices.
Is there a limit to the number of songs you can have in a playlist? Not that we're aware of! Add away.
How do you tell it what songs you don't like? When listening to a playlist or radio station, you can skip any song you don't like (except for in Beats 1, which is live). While this should signal to Apple Music that you don't want to hear that song or artist again, it might be finicky at times. Greenbot's executive editor Jason Cross told Apple Music that he didn't like Nicki Minaj, and was then suggested an entire playlist of Nicki Minaj jams. We're guessing this feature will improve over time.
Alternatively, tap the "heart" icon next to any song you really like.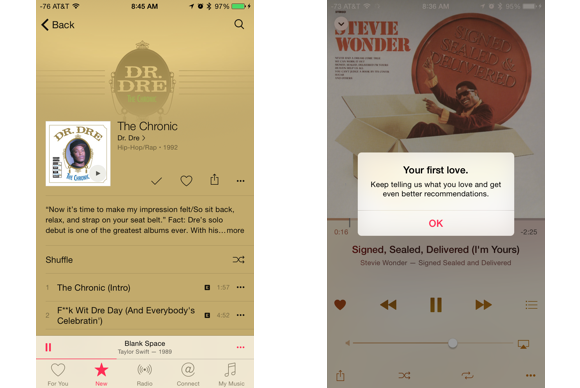 Make note of which songs you like—this will help Apple Music find the best recommendations for you.
When a song is playing, how can you go to that artist page, or album? This used to be quite complicated, but Apple has since made it much easier—just tap on the artist's name.
Where do songs or artists show up when you add them to "My Music?" They automatically appear in the My Music tab, alphabetically by artist in your Library section. You could also toggle over to your Playlists, and you'll find it in the Recently Added section.
Previous Page 1 2 3 4 5 6 7 Next Page