Apple Music FAQ: The ins and outs of Apple's new streaming music service
What kind of playlists can I create? Will Apple Music replace iTunes? What will happen to my Beats subscription? We have the answers, and more.
When I add a playlist or album to My Music, does it auto download to my device when on Wi-Fi? No, it won't automatically download to your device. You'll have to mark that playlist or album for offline listening.
How will Beats 1 differ from iTunes Radio? iTunes Radio takes the Pandora-style approach to radio, where users create their own stations based around songs, artists, albums, or genres, and iTunes serves up songs that flow well around that theme. You can still use a version of iTunes Radio within Apple Music—but it's now called Apple Music radio stations. However, iTunes Radio stations were built by algorithms, and Apple Music's radio stations will mostly be hand-built.
Beats 1, on the other hand, is more like a traditional radio station, with a 24/7 live radio stream anchored by three DJs based in New York, Los Angeles, and London. Former BBC personality Zane Lowe is leading the effort from Los Angeles, with Ebro Darden of Hot 97 in New York, and Julie Adenuga in London. Beats 1 features a combination of songs handpicked by these DJs, plus celebrity interviews, pop culture news, and other music-related content. For now, it is commercial free—but you will hear the occasional sponsorship message—I hear quick sponsorships ads from time to time, like "Beats 1 is made possible by American Express."
What's really neat is that every user around the world hears the same content at the same time, and these stations take a much more curated approach to radio than iTunes Radio does.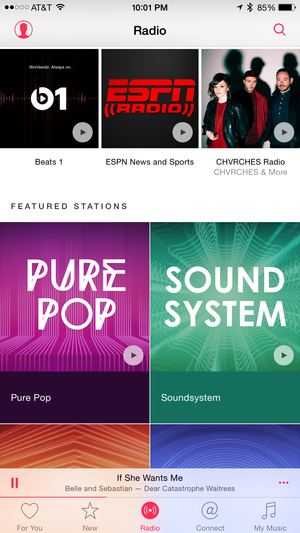 Besides Beats 1, Apple Music includes genre-based radio stations—kind of like iTunes Radio, but curated differently.
Will standalone iTunes Radio remain a free service? Will iTunes Radio stations sponsored by record labels be moving to Apple Music, or will they be dropped? Beats 1 and Apple Music's radio stations are free to anyone with an Apple ID—though the genre- and artist-based radio stations will be ad-supported and have a limit on song skips. If you created your own stations, they'll sync over, and you can find them in the Radio tab. However, many of iTunes Radio's former stations sponsored by record labels have disappeared, so you may be out of luck.
What genres does Beats 1 focus on? Actually, Beats 1 doesn't really focus on one specific genre like traditional AM/FM radio stations do. On any given day, you'll hear a healthy mix of indie rock, hip-hop, pop, funk, electronic, classic rock, dance music, and more, all artfully woven together in a way that doesn't sound like a hot mess. DJ Zane Lowe mentioned in the station's opening remarks that Beats 1 is simply about great music, and it serves as a solid jumping off point for discovery.
Previous Page 1 2 3 4 5 6 7 Next Page