A week with Feedly: A Google Reader junkie's journey
After an extended test drive, a longtime Reader addict finds Feedly to be a more-than-serviceable replacement.
Content on the go
I test-drove the Feedly mobile app (available on both Android and iOS) on my Android phone and found that it synced seamlessly with the laptop experience.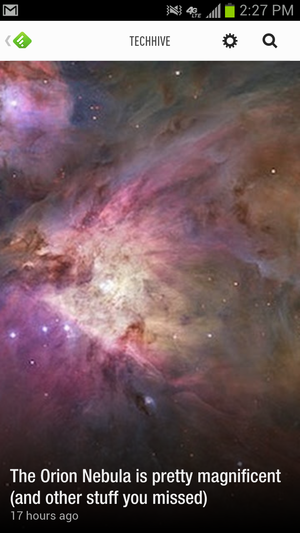 Feedly's pretty Cards view on the Android app.
The mobile version of Feedly offers only three views: Both the Lists view and the Magazine view seem to offer the same presentation of small images and headlines, except that Magazine presents the top story on an initial full-screen.
The third view, Cards, fills the screen with one post at a time, displayed as a lead image and headline (as shown in the image at right). You can then flip to the next story by swiping your finger horizontally.
I especially liked the Cards view when using Feedly on the go. For me, reading blog content on a phone isn't a matter of necessity--it's a waiting-in-line-at-the-pharmacy type of activity. The Cards view on mobile provides an aesthetically pleasing and reasonably fun way to peruse content.
If you decide to click through and read a full post on a site, the mobile app wisely opens the website inside its app instead of sending you to the phone's browser. The result is a quick and tidy experience.
The beginning of a beautiful friendship
After spending a full week with Feedly, I came to realize that Reader had been lagging behind for some time. I had remained loyal to it chiefly because it always worked well enough and doing so allowed me to avoid the scarier prospect of transitioning to an unfamiliar RSS service.
If you're a Reader junkie, too, you'll probably discover that spending your time with a Web application that emphasizes design and functionality is far more rewarding. Though I will always cherish the hours Reader and I spent together traversing the blogosphere, I had to endure the break-up of that relationship before I could realize that, in my heart, I was ready to move on long ago.