8 secrets to super-productive telecommuting
Telecommuting sounds like a dream come true, but it takes effort to stay productive and motivated. Here's how to work from home the right way.
Reserve the time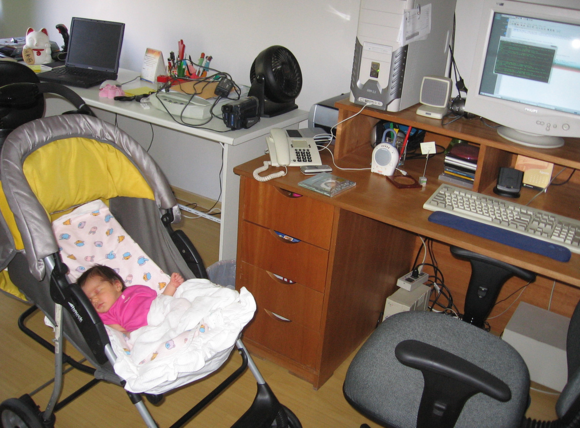 Even sleeping babies demand a caregiver who's not doing desk time.
Most stories about telecommuting advise you to stick to specific "working hours," lest your home life and work life blur together. Unfortunately this advice is nearly impossible to obey. Working at home may make it easier for some people to slip into the rut of working inordinately long hours--but on the other hand, when you must work long hours, telecommuting pays off. Toiling after dinner or getting up for a 6 a.m. conference call is still a chore, but it's far more convenient without the commute.
Regardless, the common suspicion or expectation is that telecommuters are constantly slacking--doing laundry, running errands, napping, playing with the dog--and to overcome that prejudice, you'll need to put in more time and do a better job than you would have done at the office.
Find separate space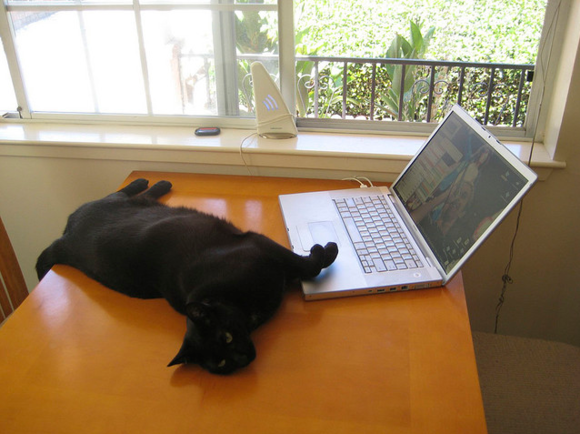 Limit the pets and other distractions to break time.
It's easy to get sucked onto the couch with a laptop on your legs. Ditto the kitchen table. These spacious environments are unlikely to be busy with interlopers during the day.
Nonetheless, avoid trying to do serious work in these areas. Instead, get a dedicated space. This doesn't have to mean clearing out a room to produce a parlor-size office (though doing so certainly wouldn't hurt), but it does mean setting aside a well-defined area. The area might be a corner of the bedroom or living room, or an alcove in a hallway that can accommodate a small desk. If you must work at the kitchen table, turn it into a faux office each morning by removing the tablecloth, the newspaper, and the salt and pepper shakers. The transformation ritual will establish the beginning of your workday and provide a psychological transition to your productive hours.
Mimic your office environment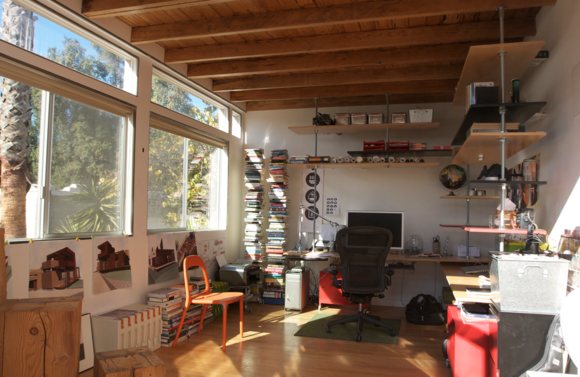 If you can't make your home office this beautiful, at least make it functional.
You wouldn't come to the office in sweats or without brushing your teeth, right? (Unless you're a journalist, I mean.) Then why would you show up in your home office in such disreputable condition? Besides pulling yourself together before you start working, outfit your office space with the trappings of a traditional desk: a cup full of pens, Post-It Notes, a real keyboard and mouse, and a high-quality desk chair.
Many home-based workers tend not only to work wherever they happen to be sitting, but to ignore the ergonomics of their work setup. Use real office furniture, and get your computer setup into ergonomic shape. If you're a laptop user (as most telecommuters tend to be), rely on a docking station or stand to keep your monitor at the appropriate height, with the top of screen at eye level. Splurge on two monitors if you can. Use a comfortable keyboard and mouse, too.
Previous Page 1 2 3 4 Next Page