8 secrets to super-productive telecommuting
Telecommuting sounds like a dream come true, but it takes effort to stay productive and motivated. Here's how to work from home the right way.
Yahoo CEO Marissa Mayer's recent ban on telecommuting sent shockwaves across the business world. Pundits were quick to take sides, with supporters of the work-at-home option insisting that such arrangements "can make you more productive," and naysayers denouncing telecommuting as "the worst of everything."
They're both right. If you telecommute the right way, you'll save countless hours that you'd otherwise waste in commuting, You'll also enjoy a more stable life, and do a better job. But you do it wrong, working from home can wreck you. I know because I've spent the last seven years working from home--four of them, ironically, at Yahoo.
To make telecommuting work for you and your employer, follow this advice.
Ensure connectivity is up to snuff

If your networking gear isn't working well, neither are you.
You may not think twice about the Internet connection at your office--but when you're outfitting your home, bandwidth is a crucial consideration. Check with your Internet service provider about upgrades, particularly faster data service. Comcast, for example, offers 50 mbps and even 100 mbps business-level service plans, both of them considerably faster than the sub-10-mbps speeds that most consumers receive with their plans. Otherwise, investigate different ISPs.
The same goes for your cell phone. If a scratchy connection annoys everyone on the conference call, seek an alternative: Add a landline to your house, switch carriers, or use a VoIP service such Skype (as long as your network is speedy). You can also tweak your router's Quality of Service (QoS) settings to dedicate more bandwidth to certain applications, such as VoIP calls.
If file transfers between computers are running slow, your internal Wi-Fi network may require upgrading to an 802.11n or 802.11ac system. If you're working off the corporate network and away from its backup services, make sure that you're backing your data up regularly, ideally in real time. Adding a NAS device to your home network can be invaluable for this purpose because it gives you a centralized storage location for files and, often, a built-in drive-mirroring system or other backup system.
If you can't squeeze more juice out of your connection or upgrade, make sure that freeloading neighbors or chatty devices aren't hopping onto your router and slowing things down. Most wireless routers will show you a list of devices connected to them. Deny access to devices that look fishy, and turn off devices that might be hogging bandwidth during work hours.
Make security key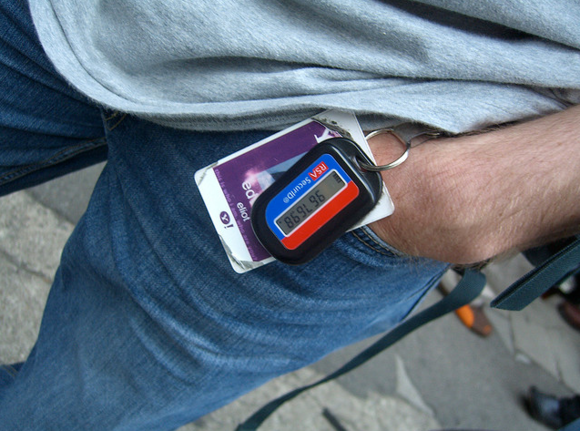 A Yahoo worker's VPN security token in the wild.