8 Black Friday iPhone apps to help you shop smarter
It's a jungle out there. Let these apps be your machete through every Black Friday ad, with built-in shopping lists and expert advice too.
Black Friday Shopping
If you want your ads served up piping hot, have a look at the Black Friday Shopping app and its website. The first thing you see upon launching the app is the newest scanned ads. Hit the navigation at the upper left to reveal a flyout pane listing the app's categories: Wishlist, Stores, Deals, News and About.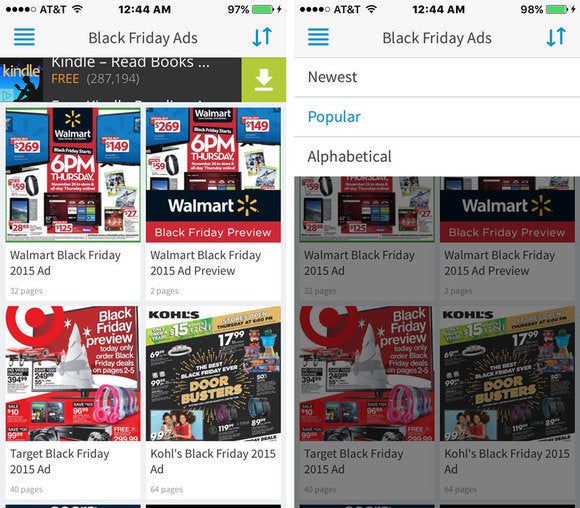 I guess it's not surprising to see an ad in an app that's all about ads, but it doesn't do the interface any favors.
While Black Friday Shopping specifically identifies with the day-after-Thanksgiving shopping extravaganza, this deal site is a year-round resource associated with more than 200 online stores and coupons, including Groupon, where you can check your favorite categories, compare prices, and sort and search by keyword, store, or price. The app's star system and gesture-based interface for finding and marking favorites are a neat touch.
The Black Friday.com
Looking for a general shopping app with a Black Friday specialty? The Black Friday.com for iPhone and iPad, an offshoot of the Deals of America app, is laser focused on deals, deals, deals.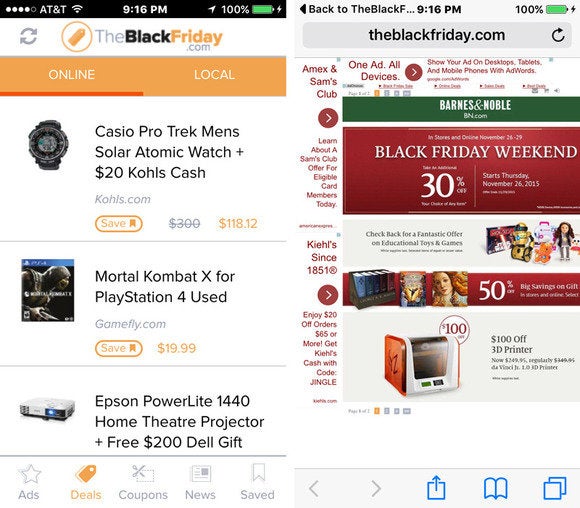 The Black Friday.com can help you find local deals, but be ready to be booted out to Mobile Safari a lot.
The Black Friday app gives you the choice of viewing specific ads for that day as well as general store information. While multi-page ads look small on the iPhone's screen, it's not difficult to magnify them and tap a product to get an easy-to-read Details page with a Shop Now button. While most of these apps let you enter your ZIP code to find local stores, this app takes advantage of Location Services (with your permission, of course) to pinpoint the closest outlet to your current location.
Black Friday 2015 by DealNews
Black Friday 2015 (one of two apps with the same name), is powered by DealNews and is also associated with the DealNews shopping app. Every day, the site checks over 2,000 online retailers and thousands of deals to deliver the best 200 sales. It verifies that each deal is valid, carries the lowest price, and is from a reputable retailer before posting it.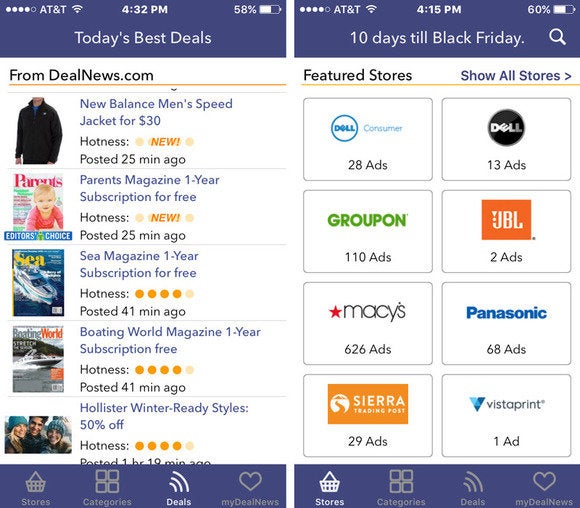 The DealNews app's big selling point is the "hotness" score added to each deal.
The Deals pane lists entries in order of the time posted and applies a five-point "hotness" rating measuring each deal's popularity. You can search by stores, categories, specific deals, or read shopping advice from expert e-commerce journalists. You can even access your shopping list online, a nice touch, and share ads with friends on social media.
Previous Page 1 2 3 4 Next Page