5 little-known Facebook tips and tricks to make your News Feed less frustrating
With these quick fixes, using Facebook will be far less infuriating.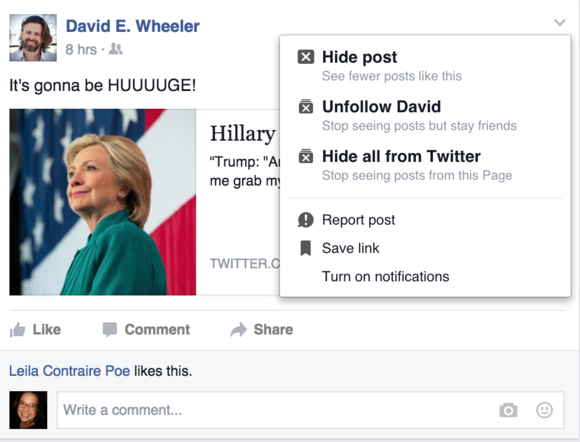 David, if you're reading this, I didn't really unfollow you. I'm just using you to illustrate how you would unfollow someone.
Now, let's say a second Facebook friend is constantly posting links from a site that you loathe, but every so often, they post something funny, so you'd like to keep them around. The next time they post something from that specific site, click on the upper-right corner and select the "Hide all from [site]" option. If anyone in your friends group makes a post linking to that site, you'll never know.
And if you ever get curious about exactly who and what you've unfollowed in your decluttering spree, you can click on the little triangle in the upper-right corner, select the "News Feed Preferences" option, then see who you've unfollowed. You then have the option to reconnect with those you've unfollowed.
Tip #4: Sort your groups and pages
Groups are a great way to keep in touch with very specific bunches of people, but not all groups are created equal. You can add different groups to your Favorites list and they'll appear higher up on the left-side navigation bar under "Favorites," so you can quickly click on the swimming group to see if anyone's down for a brisk 7 p.m. swim, or you can check your college newspaper to see what fellow alums are up to. And then you can leave the groups you only check intermittently down, down at the bottom of the column.


You manage this from your groups setting, which you get to by hovering over the "Groups" label on the left navigation area. Click on image to enlarge.
This tip also applies to Facebook pages. You can favorite them to push them higher on the left-hand navigation. Another way to make sure you see all your favorite page updates without bloating the Favorites section is to create a list of all the pages you like on Facebook. The feed of those pages' updates will appear in the lower section of the left-side navigation bar, and you can just scroll through it. I like lists for hyperfocusing content: a list for local pages like swap groups and the parks department, a list for retailers I like, a list for news sources I like, and so on.
Tip #5: Be a model citizen on Facebook
It's easier than you think to avoid being a jerk online. If you follow steps 1–4 above, you'll have already headed off many unpleasant incidents at the pass. The following tips will help you avoid causing any future unpleasant incidents.
Previous Page 1 2 3 4 Next Page