5 little-known Facebook tips and tricks to make your News Feed less frustrating
With these quick fixes, using Facebook will be far less infuriating.
The problem with social media is that it requires you to be social with other people, and other people can do things that dampen your enjoyment of, say, your Facebook feed. But there's no need to let technology exacerbate interpersonal conflict, or vice-versa. Follow these tips to reduce your Facebook frustration and minimize the potential for messy social media drama.
Tip #1: Lock down your privacy settings
You may not be the kind of jerk who tags someone in a photo when they're looking especially triple-chinned, but you may know those jerks, and you certainly don't want them posting their triple-chinned photos of you on your timeline without your say-so.
So don't give anyone the opportunity to post stuff to your timeline. Go to your Timeline and Tagging settings, then change who can post on your timeline to you and you alone.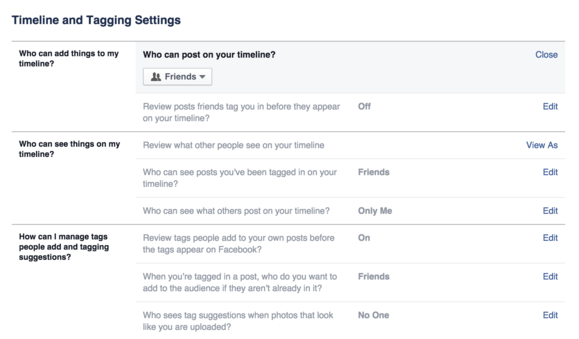 This section is your best hope for changing what people can see and post on your Timeline. Click on image to enlarge.
But say you and your friends use each other's Facebook pages as ways to share links with one another and start conversations. And say you have one Facebook friend who constantly posts nonsense on your wall, but you can't unfriend this person without it prompting a lot of in-person conflict? You'll take two steps:
First, you'll go through your Friends list and turn the most likely offenders into mere acquaintances. To do this, go to your profile page, click on the Friends tab, then hover over the people you'd like to restrict. You have the option to make someone an acquaintance, put them in the "limited profile" group or put them in the "restricted" group.
The purpose of the limited profile group is to prevent people from viewing certain content. In other words, if you're the kind of Facebook poster who enjoys posting political articles and you have Facebook friends who can't play nicely in the comments, you might put those friends on limited profile.
You then have the option to specify which group sees which posts, and you can exploit that option in two ways. You can set it under the Privacy settings with "Who can see my stuff?" or you can set it with each individual post you make on Facebook. If you'd prefer not to think about who's checking each post, do the former. If you post a healthy mix of content for different groups, do the latter.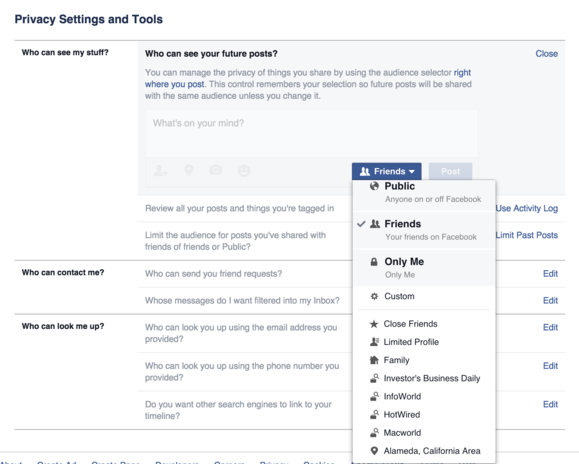 Change who can see your posts if you don't want to have to think about it every time you post. Click on image to enlarge.