Obama and Bill Gates tout plans to double clean energy research spending
The U.S. will increase its R&D spending from US$5 billion to US$10 billion.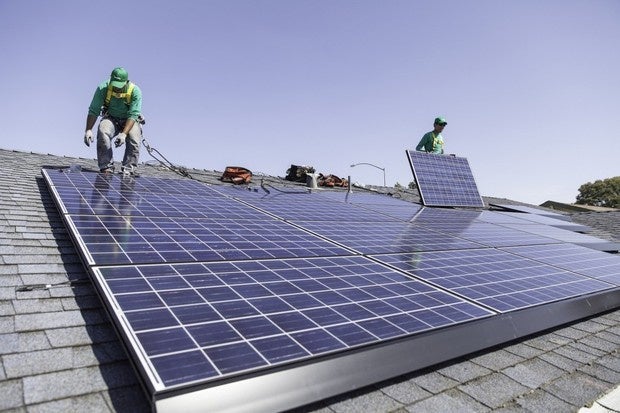 Solar power is expected to surpass fossil-fuel generated electricty in price over the next decade. Credit:SolarCity
President Barack Obama yesterday announced that the U.S. is joining 19 other countries and 28 leading technology innovators to double funding and other resources for clean energy research and development.
The multinational program, known as "Mission Innovation," was announced at the United Nations Climate Summit in Paris.
Along with public funding, the high-profile investors -- known as the Breakthrough Energy Coalition -- also plan to provide money for the development of zero-emission energy technology. The group, being lead by Microsoft co-founder and philanthropist Bill Gates, includes Salesforce.com founder and CEO Marc Benioff, Amazon founder and CEO Jeff Bezos, Virgin Group founder Richard Branson and LinkedIn founder Reid Hoffman.
In a research paper published yesterday, Gates pointed out that the ratio of government spending on research and development compared to total spending in energy is 0.4%. In health, the ratio is more than twice that.
"In defense [spending], it is more than 22 times higher." Gates noted.
The International Energy Agency (IEA) has estimated that wind and solar photovoltaic energy could cut the world's annual emissions from electricity generation 22% by 2050. However, because solar and wind are "intermittent" energy sources, what is needed to cut the world's annual emissions further are advances in energy storage technology, Gates said.


Click on image to enlarge. Credit: Vaclav Smil
The Breatkthrough Energy Coalition will focus on early stage, clean energy innovation. For example, in his research paper, Gates identified flow batteries and solar paint as two high-risk technologies that merit more private-sector investment. Solar paint could be applied to any surface to create a photovoltaic energy-producing layer.
Flow batteries get their name because they use liquid chemicals (electrolytes) that are separated by a membrane. The reaction between the two chemicals frees up electrons, creating electricity. Flow batteries have an advantage over today's most popular energy storage technology -- lithium-ion batteries -- in that they can scale more easily because all that's needed to grow capacity is more liquid; the hardware remains the same. As a result, flow batteries have the potential to be more cost effective than lithium-ion batteries.
Another option, Gates said, would be to deploy wind and solar power technology wherever sun and wind are plentiful and connect them to other places using a high-voltage grid. These options are already being used in some places, but need to be cheaper and better performing to be useful on a larger scale.
Among the 20 nations participating in Mission Innovation are the the world's five most populous countries: China, India, the United States, Indonesia and Brazil.