World of Warcraft: Legion review: The excitement returns in this online role-playing game
For the first time in several World of Warcraft expansions Blizzard is flexing its world-creation and storytelling muscles.
Over the past few years now, World of Warcraft subscribers have been drifting away from the game, canceling their accounts or putting them on hold. The question as to whether there was a game still worth playing, or even content really worth exploring, hung in the air.
With the release of the World of Warcraft: Legion expansion ($50 on Amazon), these questions appear to have been put to rest.
From its very outset, Legion means to grab your attention and keep it. The opening cinematic of a combined aerial and naval invasion between the Horde and the Alliance against the Burning Legion creates a feeling of dramatic tension. It's Blizzard going for broke to establish the feeling that you are your character and that this campaign is the last, best hope for victory, even as your airship is shot down and you're stranded on a foreign beach in the middle of enemy territory.
For the first time in several World of Warcraft expansions (Legion is the sixth one) Blizzard is flexing its world-creation and storytelling muscles. The game's graphics and sound have been upped to beautiful new levels. Lush new environments and quests are genuinely worth exploring, rather than simply feeling as if you're going through the paces.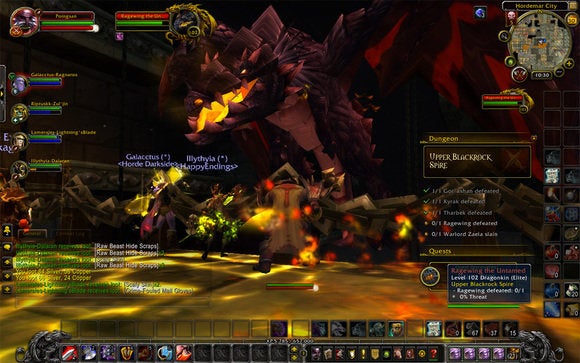 WoW still has gigantic dragons to take down.
Demon Hunter
The key to all of this, and perhaps the thing that makes Legion worth the effort, is the new Broken Isles content and the Demon Hunter player character. Following installation of the game, you can either use a one-time upgrade and boost one of your existing characters to level 100 or create a level 98 Demon Hunter and begin playing the tutorial quest line to fill yourself in on the back story, play style, and lore.
For anyone who ever wanted to play a Demon Hunter, this is your lucky day. In addition to creating a tough, resilient character with a good level of branching and customization, the Metamorphosis spell earned during the early gameplay segment allows you to transform into a hulking, spiky warrior, and the ability to decimate your opponents with eye beams will have you giggling with joy. Pair that with bat wings that you can use to glide from place to place and you have a fun, agile, and tough new class.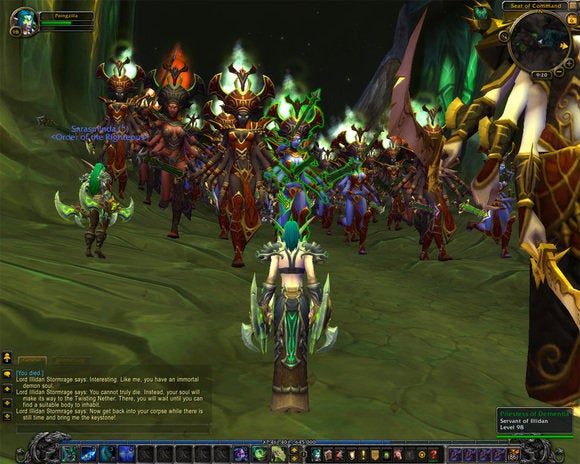 That's a lot of arms and swords.
Better expansion experience
World of Warcraft's expansions in years past were treated with a mix of both joy and dread, and for good reason. During past around expansion times, logins were met with delays, long wait queues, and occasional crashes. This wasn't the case with Legion and I was not only able to log in quickly, but also had next to no wait to participate in a quick group dungeon or raid mission. In spite of being briefly disconnected during gameplay, I was up and running on the server in under a minute and the connection remained stable.