Windows 8.1 apps: New additions and crucial updates
While many of Windows 8.1's major changes focus on the user interface, ultimately it all comes down to the apps.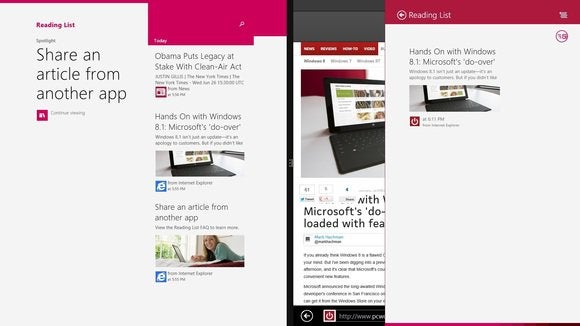 Keep in mind that this app behaves a bit differently from other readers. Instead of sucking up the text into the app itself, Reading List actually sends you back to the original source. The downside to this approach is that the app doesn't work as an offline reader. It's strictly a way to save articles for later.
Internet Explorer
Internet Explorer 11 brings some really useful changes to Windows 8.1. Most helpful is the ability to open up to three Web pages side-by-side in separate windows. To do this, you must long-press or right-click a link or an open tab, and select the option for "new window." Opening multiple windows creates several instances of IE 11 in the Windows multitasking menu, so you can get back to any open pages even if you drag them out of snap view.
Other tweaks include syncing between all Windows 8.1 devices, a "reopen closed tab" function, saved passwords, and a built-in download viewer. And for those who can't stand the way modern-style IE hides tabs and the address bar, IE 11 includes an option in the Settings menu to show them at all times in a collapsed view. Combined, these new features definitely help modern-style IE serve as a competent replacement to the desktop browser.
Photos
Microsoft has changed the interface for the Photos app in Windows 8.1, bringing it closer to the file picker that appears in other apps. Strangely, the ability to view online photo sources such as SkyDrive, Facebook, and Flickr was missing in our tests. But this may just be a bug, as online sources were available through the file picker in other apps. As for editing, the Photos app mirrors the Camera app, with an edit mode that includes lighting tweaks, red-eye reduction and other options.
SkyDrive
At last, SkyDrive's modern-style app functions more like its desktop counterpart in Windows 8.1. Users now have the ability to cut, copy, paste, and rename files--seriously, you couldn't do any of those things before--and make files available for offline access. There's also an option, in the Settings menu, to make all SkyDrive files available offline, which is helpful if you're using a laptop with plenty of storage space. Aside from those substantive changes, the SkyDrive app's interface has been tweaked, with smaller icons that allow for more items on the screen at once.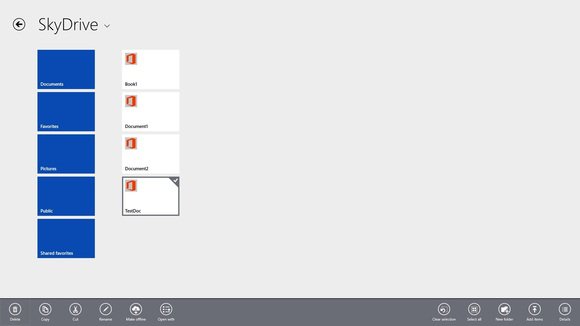 Music
Microsoft's Xbox Music app is getting a major visual overhaul in Windows 8.1. The new design is a departure from the horizontally-scrolling, modern-style apps we're used to, with a navigation column on the left side, and a vertically-scrolling list of artists on the right. It's definitely an improvement, more conducive to quickly getting to your music.
Previous Page 1 2 3 4 Next Page