Windows 8.1 apps: New additions and crucial updates
While many of Windows 8.1's major changes focus on the user interface, ultimately it all comes down to the apps.
Once you've taken a photo, the app provides some new editing options. In addition to cropping a photo, you can now rotate it or go into a full-blown editing mode, where you'll find options for red-eye, lighting, color, and focus. You can also set a photo as your lock screen, open it in another app, or start a slideshow. This app doesn't offer drawing, cut-and-paste, or the precise cropping and resizing options you get from MS Paint, but it looks like a fine option for basic photo editing on touch-based PCs.
Food & Drink
Although plenty of food-related Windows apps exist already, Microsoft has gone ahead and made one of its own. It's impressive, offering recipes, tips, and articles about food, wine, and cocktails, all gathered by Bing. Users can select from the app's list of recipes or create their own--either by typing it in or taking a picture of a paper recipe--and then add those recipes to a collection. The app also lets you create shopping lists and meal plans, which can be shared with other apps through the charm bar.
Less useful, at least in my experience, was the "hands-free" mode that's supposed to let you swipe through recipes using your PC's webcam. Getting the app to respond to hand gestures was unreliable, so it might just be easier to swipe with your elbows.
Health and Fitness
Microsoft's new Health and Fitness app is a sprawling program, packed with features for staying healthy. The main page provides links to fitness exercises, news articles, nutricion tips and medical news. There's also a link to a human body tracker, similar to the one we've seen from Google.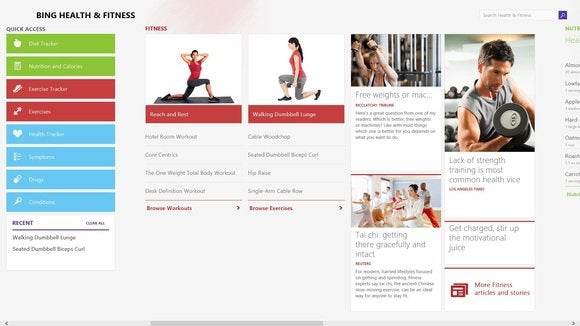 The real action begins with the app's built in diet, health and exercise trackers. These trackers have potential, but right now they're far too limited in what they can do. The diet tracker lets you record what you've eaten, but its database of items is lacking. (For instance, it has information on some Subway salads and sandwiches, but not others.) The exercise tracker isn't able to sync with popular fitness services like Fitbit and Runkeeper, and entering all that information manually seems like a hassle. The health tracker is fine if you have weight, cholesterol, blood pressure and vaccination details on hand, but it's basically just a record-keeping app. For now, the Health and Fitness app is best for providing general news and health tips, not for keeping data on your own health.
Reading List
While it's no replacement for true "read it later" apps like Pocket, Reading List at least offers a simple way to save articles for later. There's not much to do in the app itself, at least not until you've saved up some things to read by using the Share charm in other apps, such as Internet Explorer or News.
Previous Page 1 2 3 4 Next Page