Windows 10 browser beatdown: Who's got the edge?
Microsoft Edge vs. Google Chrome, vs. Mozilla Firefox vs. Opera vs. Vivaldi
Not all web browsers are created equal. In fact, it might startle you a little to realize how diverse the range of top-end browser software has become, if you came of age in the era of "Internet Explorer or go home."
With about a third of all Windows traffic on the web coming from Windows 10 installs, according to figures from U.K.-based analytics firm GoSquared, and with Microsoft distancing itself from Internet Explorer in favor of the Edge just as fast as it can, it seems like as good a time as any to survey a few of the best browsing options for Windows 10 users.
A word on methodology – I ran each contestant here through three benchmarks (higher scores are better in all of them – see graphic below) to give a broad sense of overall performance, and put each of them through their paces by using them for both work and play. With the exception of the benchmarks, what follows are the subjective opinions of a working reporter who nevertheless does a great deal of web browsing. The five browsers – note that Apple Safari isn't a real option on Win10 -- are presented in reverse order of preference, with my least favorite first. Enjoy.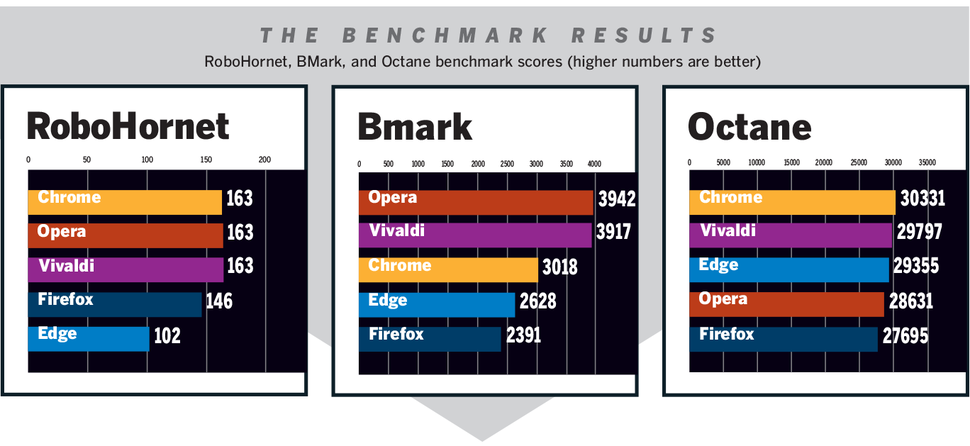 Networkworld/Jon Gold/Stephen Sauer
#5: Microsoft Edge
I have Microsoft Edge as a secondary browser (my super high-tech solution for having both my private Twitter and my professional Twitter open at the same time is to have them up in two different browser windows; yes, I know there are slicker ways to do this) and I spent a few frustrating minutes trying to figure out how to uninstall it, before I realized that Edge is embedded firmly into the guts of Windows 10, and that it's not really something you install and uninstall. In fact, it turns out that you literally can't get rid of it, even if you really want to.
Getting into a full-fledged examination of user freedom and choice, and the precise philosophical reasons that it's stupid and invasive to take away users' control of the software that runs on their own computers isn't really the point of the article, but I can't just elide the issue, either. The argument that Edge and Cortana are just so integral to the basic functionality of a desktop OS is silly – if a web browser and a voice/search assistant really are key underpinnings of the entire structure, that's ridiculous design. If they're not, stop pretending they are and let me get rid of them.
Rant over. I fully realize this is not a unique problem on Windows 10, and that Microsoft makes it easy enough to simply avoid Edge and Cortana if you'd prefer. (And if I really wanted to talk about Microsoft and user choice, we'd be here for another 10,000 words.)