Why Slack should worry about Facebook, Microsoft and Google
The market for enterprise messaging and collaboration apps is bigger and more crowded than ever before. Experts tell CIO.com why the market is bustling now, where it's heading and why Slack now faces stiff competition.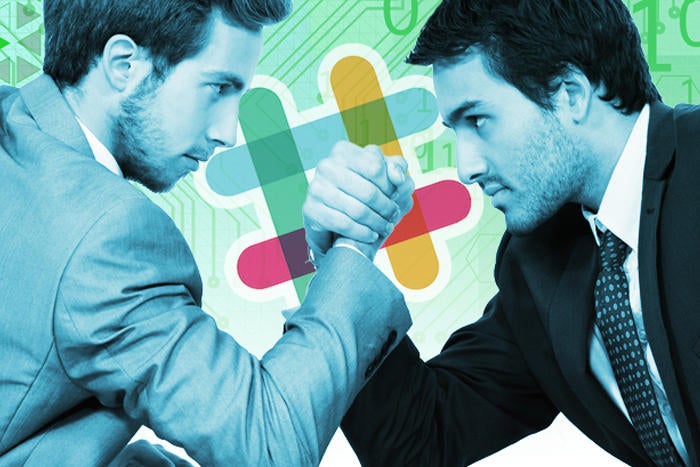 Slack may soon be careening back to earth following a meteoric rise that saw the messaging app become one of the most popular and revered in business. That's because in the last 30 days two of the world's largest and most influential technology companies have set their sights on Slack and the burgeoning, increasingly crowded collaboration market.
Workplace messaging and communications apps have been vying for enterprise adoption for years, but various macro trends have come together to create a greater opportunity and interest in the collaboration space, according to Vanessa Thompson, research vice president at IDC's collaboration and communities program (CIO.com and IDC are both owned by International Data Group.). The ubiquity of cloud and mobile technologies combined with a decline in annual productivity per working hour among U.S. workers has carved out a new space for apps like Slack, Workplace by Facebook, Microsoft Teams and others to make a move.
Incumbents battle against Facebook and Slack
In many cases, the communications needs of employees are not being met by the tools provided by their employers, says Raul Castanon-Martinez, senior analyst at 451 Research. "Vendors know there is great potential and the market is up for grabs." New entrants Slack and Workplace by Facebook are at one end of the spectrum while incumbent providers of collaboration and business communications such as Atlassian, Avaya, Cisco, IBM, Microsoft, SAP and others are updating their offerings with integrated mobile messaging and artificial-intelligence (AI) driven chatbots, according to Castanon-Martinez.
"Business workflows and business communications are coming together in ways that were not possible before," he says. Advances in AI and natural language processing enable workflow automation, which empowers workers to be more productive on the device and app of their choice. "Enterprise workflows are now coming to their smartphones and employees will be able to focus on the task at hand rather than having to jump around between their smartphone, laptop and between applications," Castanon-Martinez says.
These new and reinvigorated apps are also filling gaps in the market of collaboration and communications products, according to Adam Preset, research director, Gartner. "We have big, well-known vendors in consumer and enterprise areas bringing their resources to bear to try to create a single, multipurpose instrument for the modern worker's inputs and outcomes," he says.
"Working from anywhere means rethinking how to work together. It means smaller chunks of information delivered faster, but continuously," Preset says. "Messaging as a technology is a key underpinning. The rise of messaging and messaging apps for personal use informs what kind of communication we might like to see in the workplace." There isn't a single enterprise vendor sitting on the sidelines of this market anymore, but it's a dynamic market that may not last in its current form, according to Preset. "Consolidation around mega-vendors is a well-established pattern."