Why one CIO hopes self-service analytics will make IT irrelevant
With the help of cloud software, Merck Animal Health's Dave Williams is striving for self-service supply chain analytics.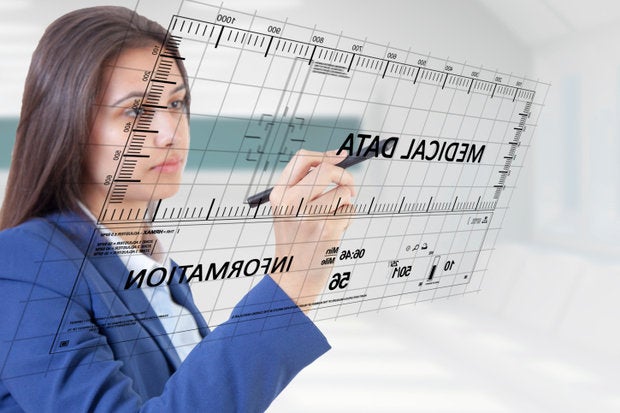 Merck Animal Health is using cloud analytics software to gain insights into its supply chain, including such crucial data as whether its customers received their orders in a timely and complete fashion. Eventually, the company's IT department hopes to enable business users to manipulate the data themselves, says Dave Williams, CIO of the $3.6 billion Merck unit that makes animal vaccines and other pharmaceutical products. Until then, Williams will have to continue weeding out data quality errors and helping manage the IT ownership changes associated with adopting cloud software.

Dave Williams, CIO of Merck Animal Health.
"When we build self-maintained analytics, the business users can do it without IT's support," says Williams. "We should strive for that so that we're irrelevant."
By "irrelevant" Williams means reaching that hallowed state of IT nirvana in which hardware and software run in the cloud, tended to by several vendors, with little care and feeding by the IT department. For the foreseeable future, though, Williams must contend with the kind of data quality issues that many CIOs are struggling with as they increasingly look to software to find morsels of useful data. Some 41 percent of 550 executives surveyed by the Economist Intelligence Unit said they struggled to maintain data quality. Thirty-three percent suggested that managing the data alone was a challenge.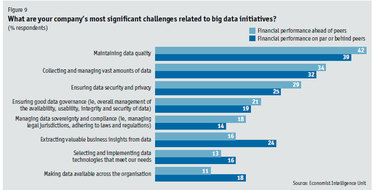 Companies cite their big data analtyics challenges. (Click for larger image.) Credit: Economist Intelligence Unit
The joys of implementation
Williams, who in a previous role at Merck spent nearly 10 years building up analytics, knew how difficult it was to get business data out of the company's business software and into data analytics software from another vendor. The data must be normalized, ensuring that the business language aligns on an apples-to-apples basis, and scrubbed clean of erroneous information before it is moved.
As part of a plan to "triple down" on analytics, Williams began using FusionOps to monitor the efficiency of a crucial supply chain that ferries products to distributors who sell them to veterinarians, farmers and pet owners. Since implementing the tool more than a year ago, the unit has improved its ability to distribute products on time and in full, to track payments, and to detect slow-moving products. It uses the software to measure accuracy for the last several months of orders and align production with market demand. Plant level managers use the software to track shipping and model schedules for upcoming weeks.
Although he says he does not yet have metrics to demonstrate supply chain improvements as a result of using FusionOps, Williams says anecdotal evidence from business colleagues suggests that FusionOps has "helped us move the needle" for measuring "how customers are experiencing us."