Why Microsoft will drive serious Linux innovation
Microsoft, while maintaining its commitment to Windows, has made the necessary steps to not merely run on Linux but to help shape the future of Linux
Is Microsoft "the only [company] doing serious innovating with Linux?" That's Jessie Frazelle's contention. Frazelle, who rose to prominence in the developer community with Docker and later Google Cloud, made the bold claim to justify her departure to Microsoft. On its face it seems silly, an over-exuberant claim to justify a career move.
And yet it does suggest a very possible future where Microsoft doesn't merely accept a peaceful coexistence with Linux, but instead enthusiastically embraces it as a key to its future.
No, I'm not talking about making things like SQL Server run on Linux. That's table stakes for serving the polyglot reality of enterprise computing. Rather, Microsoft must make a real commitment to Linux, one that has it as an active, visible contributor thereto.
Fortunately, there are signs that this is starting to happen.
Despite the talk, Microsoft is still no Linux innovator
Microsoft, of course, is not the demonic overlord of proprietary software that it once aspired to me. The days of "Linux is a cancer" Ballmerisms of 2001 have faded. We now live in a cloud-eat-cloud world where Microsoft can't afford to not run its software on Linux and contribute actively to open source projects.
This does not, however, support Frazelle's "innovation" contention, particularly when she goes further in declaring that the Linux innovator award is "not even close," claiming it is instead a runaway victory for Microsoft. The reality is that Microsoft, open source heavy that it has become, can't even crack the Top 30 contributors to the Linux kernel, according to the Linux Foundation's latest report.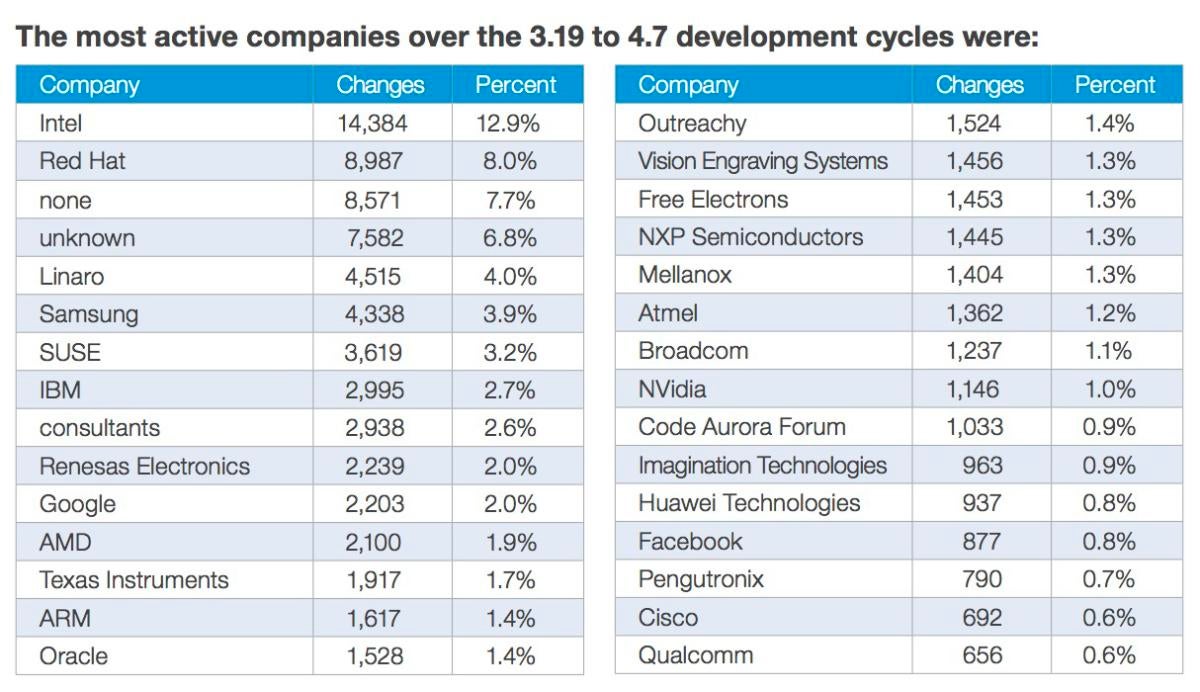 Linux Foundation
The top Linux contributors for version 3.19 through version 4.7 developmenrt cycles.
Indeed, when I asked Linux Foundation executive director Jim Zemlin how far down the list of contributors Microsoft currently sits, he told me Microsoft is currently the 47th largest contributor. That's not anything to brag about.
Yes, Microsoft joined the Linux Foundation last year as a Platinum member, but that's not innovation. Heck, the first sponsor of the Open Source Business Conference, which I started in 2004 and ran for 10 years? Microsoft. It was welcome then, but Microsoft was not innovative then or now.
Nor are the projects Microsoft called out in its Linux Foundation press release:
The company released the open source .Net Core 1.0; partnered with Canonical to bring Ubuntu to Windows 10; worked with FreeBSD to release an image for Azure; and after acquiring Xamarin, Microsoft open-sourced its software development kit. In addition, Microsoft works with companies like Red Hat, Suse, and others to support their solutions in its products.