Why companies are switching from Google Apps to Office 365
The combination of familiar software and enterprise-class support is bringing early adopters disappointed by Google's lack of progress back to Microsoft.

Google Apps is more popular with smaller businesses in Okta's figures. Click on image to enlarge. Credit: Okta
The majority of new Office 365 customers are moving from on-premises, but even companies that have already adopted Google Apps for Business are switching to Office. Microsoft claimed they won back 440 customers in 2013, including big names like Burger King and Campbell's, and the trend is continuing. Some of that may be the halo effect of the Office 365 growth making companies that picked Google Apps question whether they made the right decision. But often, it's because of dissatisfaction with Google Apps itself.
The simplicity of Gmail and Google Docs clearly appeals to some users, but as one of the most widely used applications in the world, the Office software is familiar to many. "When you put these products into companies, the user interface really matters," McKinnon says. "For email, the user interface really matters. Google Apps is dramatically different from Office and that's pretty jarring for people who've been using Outlook for a long time. It's like it beamed in from outer space; you have to use a browser, the way it does conversations and threading with labels versus folders, it's pretty jarring."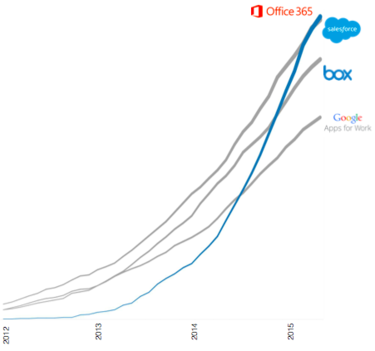 Cloud security identity and security services find that Office 365 is gaining popularity with their customers; this shows the growth in Office 365 adoption among Okta's users. Credit: Okta
And it's hard to use Outlook with Google, many customers report. "Some companies, they go to Google and they think they are going to make it work with Outlook; what they find out when they start using the calendar is that it just doesn't work as well with the Google Apps backend as it does when you're using Office 365. The user interface is so important that it pulls them back in. Even if you like the Google backend better, you have thousands of users saying 'what happened to my folders?'"
Buying Office 365 for Office
That's what Glenn Jimerson, currently CTO of fintech startup Loanatik found with an earlier startup. "I've deployed Google Apps in three different startup and I personally like it for many reasons, including the price; it's great bang for the buck." But while young founders and employees, especially Mac users, were happy with Google Apps for the basic document tasks they were doing, other, older workers found they weren't as productive without Office. "I got a lot of backlash; they weren't happy that it wasn't Outlook. They were saying 'I really want PowerPoint to do my presentations.'"
Previous Page 1 2 3 4 5 6 Next Page