Where's my single social stream?
Years ago, everybody wanted their social activity unified into a single stream. Is the dream still alive?
Friendfeed was more than a way to bring disparate social networks together. You could also plug in social bookmarking sites like Reddit, blogs and RSS feeds.
Friendfeed wasn't great by today's standards, but at least it was designed for the general public and was free and easy to use.
In the wake of Friendfeed's demise, fans of the service built at least three Friendfeed alternatives, including Frenf.it, FreeFeed.net and Mokum. But these are small, unfunded and thoroughly incomplete efforts that don't work very well.
Solid social aggregation services do exist, but mainly for professional marketers who want to manage brands on social media. The leader in this category is Hootsuite, but Hootsuite has competitors like Spredfast and Sprout Social.
A WordPress plug-in called WordPress Social Stream looks like a great option for aggregating social feeds and putting them all into a Pinterest-like interface. But because it requires WordPress and costs $19, WordPress Social Stream is not ready for mainstream prime time.
Social aggregation services are supposed to bring other people's posts on many social networks into a single place. A product called Digi-Me does the opposite -- it brings only your posts into a single location.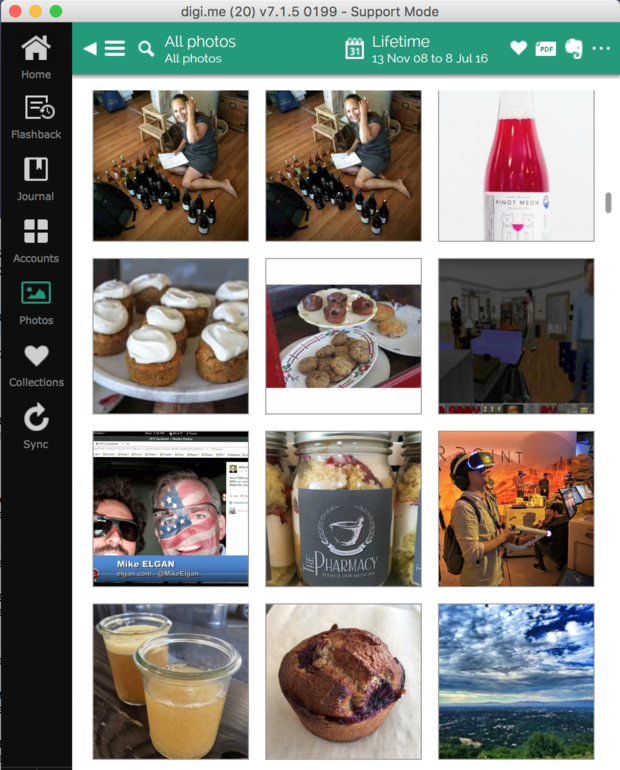 Mike Elgan
Digi-Me brings all your social posts into a single, searchable view. It will take a third-party to transform Digi-Me into the social stream we really need.
Digi-Me began as a social network backup program called SocialSafe and has since pivoted to a product that protects your privacy and gives you control over your personal information.
Digi-Me is super easy to use. Just point the Digi-Me desktop application or mobile app at all your social accounts, and it synchronizes everything so you can see your own data in one place.
You can use a hobbled version of Digi-Me for free and try the full premium version for 30 days for free. If you decide to pay, the cost is an annual fee based on the number of social accounts: $6.99 per year for up to four accounts, $16.99 for five to 10 accounts, and $27.99 for 11 to 20 accounts.
One way Digi-Me protects you is that it's not a cloud service, but an old-fashioned application or smartphone app. You download and install the software, then add your social networks. Digi-Me then slurps up everything you've ever posted, plus the comments on those posts, and stores them locally. (The company recently added the ability to store your data on Dropbox, and support for additional cloud storage is promised for later.)