What #MadeByGoogle really means
Google isn't becoming a consumer electronics company despite its announcement of five new hardware products
Google announced some cool consumer electronics devices at its San Francisco event yesterday hashtagged #MadeByGoogle: Google Home personal digital assistant, two new flagship phones under the new Pixel brand, Chromecast Ultra (capable of 4K video), Google Wi-Fi, and a VR headset for the Pixel phones. The usual sales channels—Verizon, Best Buy and Google Play—will distribute them.
It sounds like the consumer electronics business, but it is not.
Each product is thoughtfully designed with features that appeal to consumers. But they also enable Google to extend its infrastructure to increase revenues in existing businesses, to create new lines of business, and in the case of the Google Home digital assistant, to acquire a deeper understanding of users than its search engine provides.
Google's hardware partners in past September announcements would deliver a complete product that Google would add its name and brand and sell it through its Play Store and through its channels. Google changed the relationship. Google engineers sat elbow to elbow with partner engineers, designing and engineering responsive application-specific devices. In the short term, custom-designed hardware built for specific applications perform better than commodity hardware. However, in the longer term, commodity hardware gets faster and less expensive, eliminating the need for customer hardware.
Looking at these devices from Google's perspective, the company has a good reason for its #MadeByGoogle hashtag—to deliver high-performance hardware that enables Google's services.
Google Home: Google Home pictured to the left in the photo below is an attractive, vase-shaped personal assistant that doubles as a streamed music sound system. Somewhat like Amazon's Alexa, it can answer direct questions based on the 70 billion entries in Google's knowledge graph ranked internet sites and interface with home control systems to, for instance, turn on lights when asked. It can also conversationally clarify a request for action, such as call an Uber.
Plus, it is the front end to machine learning systems in Google's cloud to conversationally interact with users. Google Home has to be responsive, understand what a user said, filter noise from the background, and with very low latency, send the user's part of the conversation to Google's cloud for interpretation and a response.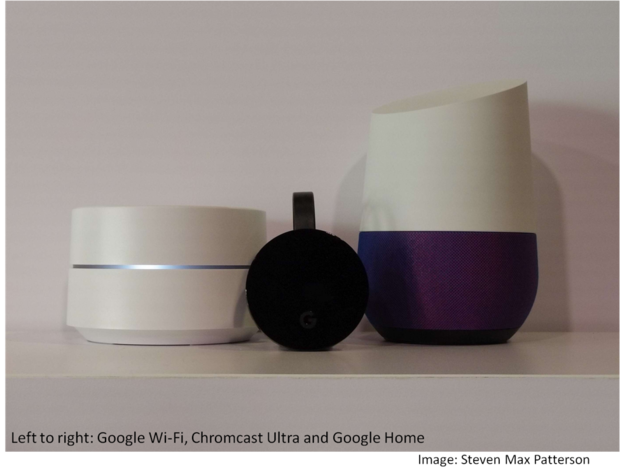 Google Home is powered by Google Assistant, which also was demonstrated on the new Pixel phone. Peeling away the layers, there are public machine learning APIs that let independent developers create their own Google Assistant app. And finally, underneath all of the layers is the embedded Google Assistant software developer kit (SDK), due to for release next year, that lets other consumer hardware makers build Google Assistant features into their products.