What cloud computing means for your applications
Cloud computing is remaking the entire IT stack, from the foundation to the customer level. The application layer is no different.
I've written a number of times about the sea change in technology that is occurring and how it's affecting enterprise IT organizations. Most recently, I wrote about how open source is eating the technology industry and how that will affect these organizations.
It's no exaggeration to say that IT is witnessing more change now than it has ever before seen. I expect more innovation – and turmoil – in the industry over the next five years than in the past 20. And all of that innovation has a common underpinning: cloud computing. Cloud computing is enabling – and driving – all of this innovation and disruption; from the perspective of IT it's important to understand what this implies for the most important activity IT undertakes: applications. Applications, after all, is where all the value of IT lies. Everything else is just an enabler.
So what does cloud computing mean for your applications?
Let's start by looking at the canonical enterprise stack, circa 2010, as represented in Figure 1.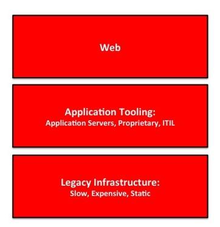 Figure 1.
The foundation of 2010 enterprise IT is legacy infrastructure. The key feature of legacy infrastructure is how slow and expensive it is. Everything takes forever – weeks or months to procure and install equipment, and that's after the capital is obtained to purchase it. And, by the way, since all of the processes associated with racking and stacking are manual and take forever, the infrastructure, once installed, is incredibly difficult to change, so it's static.
The application tooling running in that legacy infrastructure is primarily proprietary software packages – think Java application servers and relational databases from IBM and Oracle. The processes used by application groups in this environment are slow and deliberate. ITIL is a common governing process, featuring change control boards and infrequent application modifications. Which is OK – slow application processes are masked because the underlying infrastructure takes so long to change. If you're racing with a turtle, you don't really have to be very fast to look good.
And the primary application interface is the browser. Used by people. For the most part, driven by stable workload processes. Like invoice processing. The user base doesn't change much, the numbers of users doesn't vary much, and the applications change infrequently.
So overall, a tightly aligned marriage of infrastructure, tooling and workloads. Everything slow-moving and stable.
Exceptions have become the rule
Of course, this overview sounds idyllic. Of course, there are always applications that didn't fit very well to this environment. The externally facing website with huge jumps in traffic and user numbers during the holiday shopping season. There are always business units that want to try an experiment, but can't because by the time the experiment is built, the opportunity would be passed. And development and test – well, they're always bellyaching because there's no equipment available for them. But because of the primacy of the traditional applications, these unusual use cases are always treated as exceptions that don't justify upsetting the current state of affairs.