We asked developers what they think about Android apps on Chrome OS
While bringing the Play Store to Chromebooks presents a lot of opportunity, in some ways it means heading back to the drawing board.
Life is about to get a lot more complicated for Android developers. The Google Play Store is coming to Chromebooks, opening up its apps to a more traditional PC form factor and millions of devices.
Developers will need to rethink how people use their apps now that they'll be available on more traditional laptops instead of just smartphones and tablets. The capability will first come to the experimental Chrome Dev Channel, with full inclusion on select Chromebooks this fall.
I chatted with a few developers to get their thoughts on what this would mean for their work. Their outlook is generally positive, recognizing that the Play Store on Chromebooks opens up Android apps to an entirely new platform. There's particular interest in the education space, as Chromebooks continue to make substantial inroads in schools.
Yet there's definitely some work to be done, especially for those who up to this point had only considered how their app would look on a smartphone screen.
Liam Spradlin
Liam Spradlin, the lead designer at New York-based Android development studio TouchLab, is very hopeful about more exposure for Android apps.
"Obviously from a high level, being able to bring native apps to even more devices is a positive thing for developers," he said. "And since Chromebooks have seen success in education, there might be an even more exciting opportunity for developers making education apps that could be used on Chromebooks in the classroom and on whatever Android devices the student has."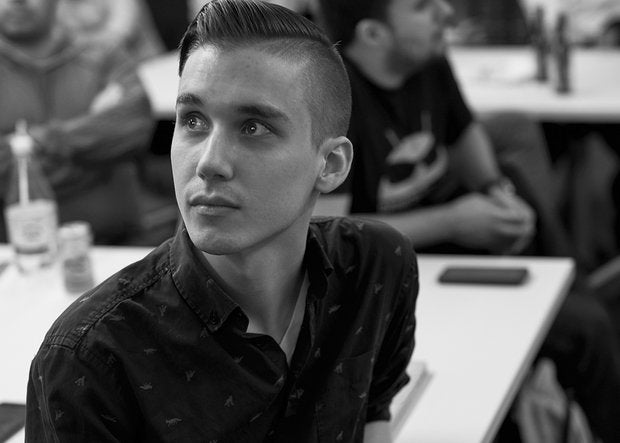 Liam Spradlin is an influential voice in the world of Android design.
It's also critical that those involved with app design take into consideration the fact that the input method and screen sizes will be more diverse. It's great for getting your app on more devices, but it has to be done the right way to be successful.
"From a design perspective, there's a new and interesting challenge, so I consider that an opportunity as well. Some Chromebooks have touch screens, but still the primary input methods for laptops and desktops are different from tablets and phones. So we need to plan not only for responsive designs that scale through a continuum of displays including laptop and desktop displays, but also for input with trackpads and keyboards."
Karissa Paddie
That sentiment was echoed by Karissa Paddie, the head of growth at photo-editing app Polarr.
Paddie, who also runs a startup growth consultancy, said Android apps on Chromebooks point to a further ambiguity between traditional computing and the mobile world.

Karissa Paddie is head of growth for photo editing app Polarr. Credit: LinkedIn