Version 3.0 of Nimble's CRM helps you find connections and keep them
If you're managing a large social account, Nimble 3.0 can help you stay on top of your online presence and even expand it.
The Signals tab starts by showing you all important events, such as people who mentioned you, new followers, recently job changes, etc. You can then sort this list according to four different categories (Birthdays, Job changes, New connections, and "RT, tweets, mentions, comments, likes"). You can also view only important people, to narrow things down, assuming Nimble managed to learn who is really important for you.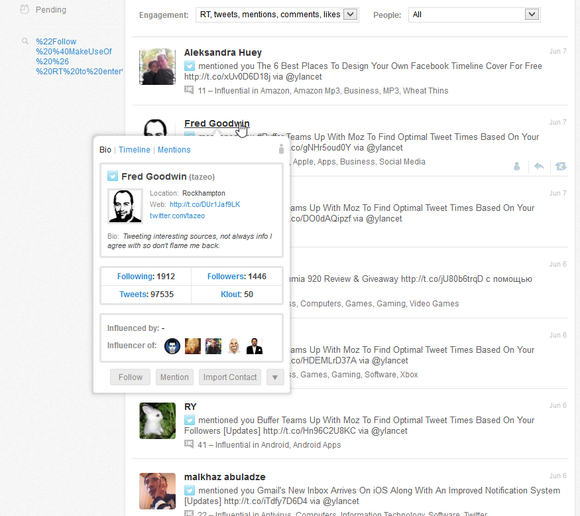 The Signals tab helps you keep up with multiple social networks, see who's communicating with you and find out more about them.
The last significant new feature in Nimble 3.0 is Search, which is not entirely new, obviously, but was updated to include a sort by last date contacted feature. This is now possible in any contact view--not just when searching--making it easy to see at a glance when any member of the team last contacted this person. The advanced search is pretty powerful, letting you search inside a contact's name, company, address, social usernames, tags, last contacted date, etc.
Nimble was never really aimed at individuals, but these new features move it even further away from non-business users, and make it even more enticing for companies and teams. Nimble is not a perfect platform.Its biggest weakness, in my experience, is a considerable mix-up in contacts management, where I kept being offered the wrong social accounts for my contacts and ended up following random girls on Twitter instead of the contact I was looking at.
Its $15 per user per month pricing is relatively low, but doesn't include such things a Google Analytics integration. On the other hand, Nimble 3.0 now features integration with a host of new apps such as Quoteroller, MailChimp, Hubspot, Hootsuite, Salesforce, Shopify, and Wufoo, which can easily upgrade its abilities and features.
All in all, Nimble 3.0 is a nice improvement, and while the free trial is now only 14 days long (instead of 30), it's plenty of time to figure out if it works for you.