This new Outlook feature will organize your inbox for you
Focused Inbox is coming from Outlook mobile app to the desktop
Microsoft is finally bringing one of the best features of its Outlook mobile app to the desktop. Users of Outlook on Mac and Windows will start seeing their inbox separated out into two tabs: Focused and Other.
As the name implies, the Focused Inbox is supposed to hold all of a user's important emails, while Other contains everything else. Users can train the system by moving email to and from the Focused Inbox, and establishing rules about certain senders and subjects.
When new messages come into the Other inbox, a banner will show up at the top of the list of focused messages letting users see how many new messages are in that section of their inbox, along with a select list of senders.
It's aimed to help mitigate the problem of an always-overstuffed inbox by moving things like promotions, newsletters and other irrelevant emails to a separate screen where they aren't blocking the view of important messages.
The feature learns from a person's usage patterns, as well. When I had to find a new roommate through Craigslist earlier this month, all of the emails sent in response to the ad I put up went to the Other inbox in Outlook on my iPhone at first. But after that, new messages in really active conversations that I had with prospective cohabitants started cropping up in my Focused inbox.
Eventually, the Focused inbox will replace Outlook's existing Clutter feature, which also uses machine learning to separate important and unimportant emails based on a user's behavior. The big difference between the two features is that Clutter moves messages to a separate folder, while Focused Inbox keeps all of the emails in the inbox, just changes how they're displayed.
People who just want to see all their emails will be able to turn the feature off at any time, too.
Focused Inbox has begun rolling out to Outlook on Windows, Mac and the web, but it'll take a while for everyone to get it. First, users will need to have updated client apps that will support the system, and then Microsoft will need to enable the web service powering Focused Inbox on the back end.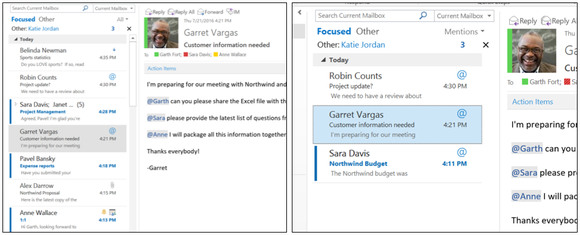 Microsoft
An illustration of how the new "@mention" feature works in Outlook on the web.
Outlook on the web is also getting support for "@mentions," which let users put the @ sign in front of someone's name in a message. Users who get mentioned will see their name highlighted in blue in the message, along with a large blue @ symbol next to the message in their inbox.