This is how the future looks with IBM Watson and 'perfect data'
It's awfully convenient and a bit scary.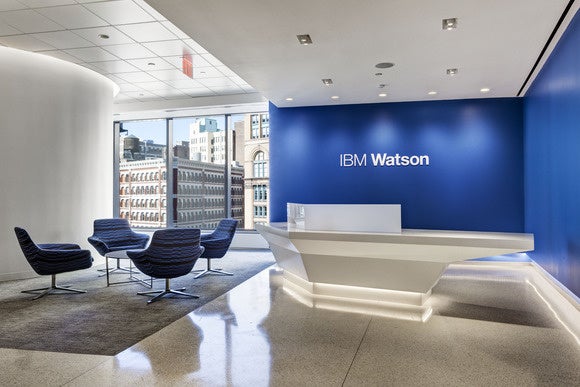 Credit: TONY AVELAR/IBM
I have seen the future, and it is a world of unparalleled convenience, untold marketing opportunities, and zero privacy.
IBM held an event in San Francisco Thursday to show off new capabilities in Watson, it's artificial intelligence system that's being made available to developers to let them build smarter, "cognitive" applications.
To set the futuristic tone, IBM invited Peter Diamandis, founder of the nonprofit X Prize Foundation, which humbly describes itself as "a catalyst for the benefit of humanity." To give you an idea of Diamandis' interests, he said he is currently "prospecting" asteroids that he plans to mine for resources. He put the value of one asteroid at $5.4 trillion.
But he was there Thursday to talk about Watson, and how humankind is producing so much data these days that it can no longer make sense of it all without artificial intelligence (AI). Watson and its ilk are needed to uncover patterns in mountains of information and make decisions we can no longer arrive at through traditional programming.
This isn't big data, it's gargantuan data.
Take, for example, images from new fleets of satellites that can see things as small as 50 centimeters across.
"You want to know what your competitors in China are doing? You can watch them," said Diamandis.
Want to predict what Best Buy's earnings will be at the end of the quarter? Count the number of cars in its parking lots and the size of packages people are carrying out.
"Well, you couldn't count them," he said, "but Watson could."
It's a fantasy -- and yet not really. That data is starting to be collected, and IBM, along with rivals like Google and Microsoft, are building AI systems that will make that type of analysis possible.
But the data gets closer to home than satellite images, and when it does there's little room for privacy. "We're heading towards a world of near perfect data," Diamandis said, where "perfect" means everything that happens is recorded and available for someone to mine.
Self driving cars, he notes, are constantly monitoring their surroundings, capturing image data at 250MB per second. "You'll never have an accident and not know what happened," he says.
Add to that an army of miniature image-snapping drones cruising the streets, and "you'll never get pick-pocketed and not know who did it."
"If you thought your privacy wasn't dead yet," he concluded, "think again."
If that doesn't sound thrilling, there's a trade-off for giving up all this data -- a whole new world of convenience. And it's already starting to emerge in the form of 100 applications that developers have built using Watson's cognitive APIs.