The North Face sees A.I. as a perfect fit
Artificial Intelligence adds a sense of "human" assistance for online buyers.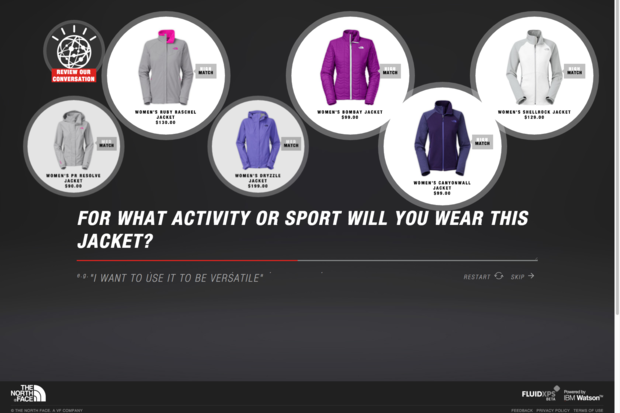 The North Face's website uses artificial intelligence to help customers figure out what to buy. Credit: The North Face
The North Face wants its customers to get the perfect jacket for whatever they're doing - skiing in Vermont, ice skating in New York City or just trying to stay warm on the way home from work.
So how do they give online customers that extra assistance and know-how? Artificial Intelligence, or A.I.
"The issue is that online shopping over the past two decades has been about a grid of products on a white background," said Cal Bouchard, senior director of e-commerce at The North Face. "That's how customers find their products. We've developed onsite search and navigation, but we still made the consumer do the work. We wanted to take the conversation you might have with an associate in a store and see if we could put that as a service online: 'Here's what I need. Here's what I want.'
"We want to make it much more personal and much more intuitive," she added. "Consumers are going to get smarter and smarter and say, 'Really? This is all you got?' They want some help. They want some advice. You can go to Google and do all the work or you can give them advice. Consumers are going to demand something new from the online shopping industry and I think this is it."

Cal Bouchard of North Face. Credit: North Face
The North Face is a 48-year-old, U.S.-based retailer that focuses on outdoor apparel and products like jackets, boots and backpacks. Based in Alameda, Calif., the company has about 60 retail and outlet stores in the U.S., as well as locations in other countries, including Canada and the United Kingdom.
Bouchard said the company decided to use A.I. when trying to develop a way to make it easier for customers -- particularly new ones -- to find just the right jacket out of the 350 or so the retailer has available. It can be a daunting job to figure out what buyers need in terms of weight, protection and style.
A.I. comes the closest to giving a buyer an experience that feels like a human sales associate is helping them choose a jacket.
"To sort through all those jackets is hard and they're all designed for different activities and environments," Bouchard told Computerworld in an interview at the National Retail Federation's Big Show conference in New York last week. "A.I. is most powerful when there are more choices than you can handle.... It's still a computer, but it's the most human interaction possible."