The Google Play Store is getting a modest makeover with a few interface tweaks
You can finally zoom in on screenshots, and Google has renamed the 'Entertainment' section to 'Movies, Music, Books' to try and drum up more interest.
There ought to always be a permanent "under construction" sign hanging in the Google Play Store.
It's not necessarily a bad thing, as Google's constant tweaks and overhauls of the app storefront usually turn out for the best. The latest round of changes aren't dramatic, but they may make it easier to find what you're looking for or more deeply investigate certain apps.
Most notably, the main landing page has changed the section labeled "Entertainment" to "Movies, Music, Books."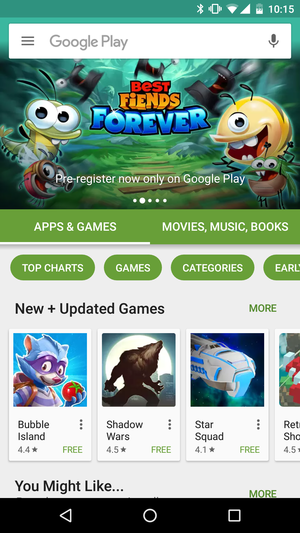 Gone is the "entertainment" label from the top of the Google Play Store.
This is likely to add some clarity as to what exactly you can get in this section. It's kind of a tight fit on smaller screens (this was taken from a Nexus 5X) but may look fine on phones like the Galaxy Note7 Pixel XL or others with a big screen.
The other most prominent change is that you can finally pinch and zoom on screenshots.
Now you can tap on a screenshot and zoom in to get a closer look.
It's helpful for picking out more details before deciding whether you want to download that app.
You also may have noticed when you click a link to the Play Store from Chrome or another browser, you'll go straight to a preview page that now has much larger Google Play Store branding.
Look for the big, green bar to know you're in Google Play.
Just as in that preview, you'll find the white search bar disappears when you're navigating different sections of the Play Store. To get to a voice search you now need to tap the bar and the microphone icon. For Google to make such a change, the company likely determined that few people were performing voice searches in the Play Store.
The impact on you: My favorite change in all of this is the ability to zoom in on screenshots. It may seem like a minor thing, but with some game screenshots this makes it easier to figure out exactly what's going on. And it may help those on smaller screens to get a better view of the action.