The best messaging apps with end-to-end encryption
If you want to keep prying eyes away from your conversations, then these are the apps that you need to get.
The interface is a little barren, but Telegram makes the list for its robust privacy and offering native apps for iOS, Mac, Windows, the web, and of course Android.
Signal
Signal's claim to fame is that it's the preferred messaging application of Edward Snowden. It's among the easiest to set up, as it automatically authenticates your number and can even be used as your default SMS app.
As with Whisper, you can create a group for private banter with an unlimited number of other users. Signal also makes phone calls, which I found to be very clear when testing it out in a couple of different cases.
Signal offers a lot of different features and can serve as your main messaging app.
Signal isn't optimized for tablets, but the company says that's on the product roadmap. The design is no-frills with color variation for different contacts to help you from sending the wrong chat to an incorrect contact.
Wire
Another good option is Wire. It offers some fun messaging tricks, like the ability to doodle, share your location, send images, or record a video. The app also includes a chat bot, Anna, which offers somewhat useful answers to various questions about how to use the app.
Wire offers a chat bot and a number of different ways to get your message across.
You can optionally create an account with your phone number, which makes setup and account deletion easy. Wire is great for one-on-one chats if you would prefer conversations with someone be off the record. But it doesn't have the same type of social or group features found with some of the other offerings here.
WhatsApp
You also can't forget about the uber-popular WhatsApp. Like the others on this list, it promises end-to-end encryption so your messages stay private. The biggest advantage is that the service, which is owned by Facebook, has over a billion users. There's a very good chance you won't have to convince all your friends and family to download the app.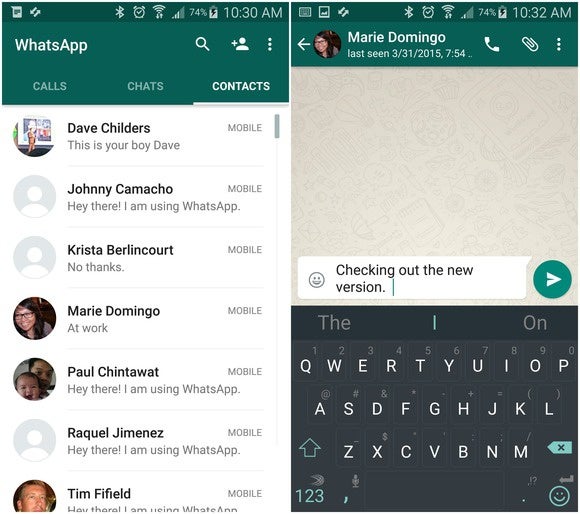 WhatsApp is a popular messaging app throughout the world.
That shouldn't be discounted, as one of the pains of moving to a messaging service is convincing everybody to jump aboard. However, WhatsApp is now owned by Facebook, a connection that could make some wary, especially since the social network recently announced it'd be using some account information, including phone numbers, from WhatsApp. If your goal is a high threshold of privacy, then it's worth keeping an eye on.
Dust