Tested: VLC vs. Windows 10 video player. The winner may surprise you.
We tested six video players on Windows 10 to see which gives you the best battery life. The winner may shock you.
And no, you can't make up for the battery life by just cranking down the brightness. To see just how much the screen brightness on the Radius 12 impacted battery life, I ran the same video using the maximum brightness on the laptop and then set to 100 nits, which is probably as dim as you'd watch a movie.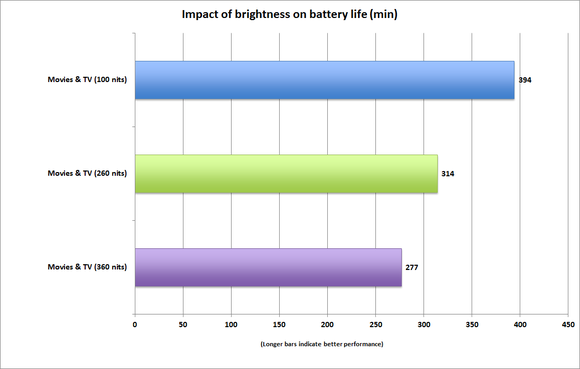 Going from the maximum brightness to 100 nits adds battery life but not as much as we expected.
Certainly, the resolution and manufacturer of the panel can be at play in power consumption, but cutting the brightness from 260 nits to 100 nits on this presumably 12-inch IGZO panel doesn't net the battery gain I expected.
Conclusion
In the end, Microsoft's Movies & TV is boring as an in-flight magazine with the tweaking options of a toaster. The thing is, when you're sitting on a plane watching a movie you'll care.
Previous Page 1 2 3 4