Tested: VLC vs. Windows 10 video player. The winner may surprise you.
We tested six video players on Windows 10 to see which gives you the best battery life. The winner may shock you.
It also has a nifty feature that lets it record screen captures along with Picture-in-Picture mode, and it supports 3D glasses. The UI is polished and it has overwhelming, head-spinning options. For my test, I used the default settings, and in battery life it was only slightly better than VLC. PotPlayer actually makes it a point to tout "enhanced hardware acceleration that provides the maximum performance with the minimum resource using DXVA, CUDA, QuickSync."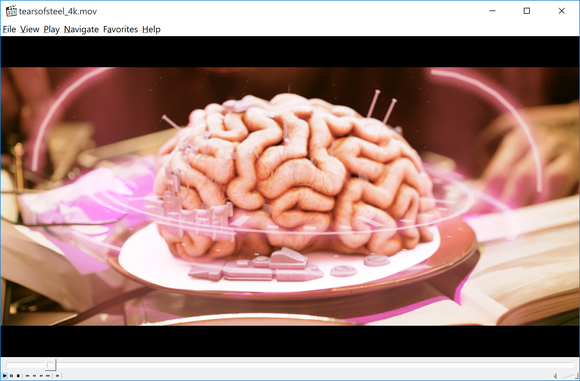 Media Player Classic HC is what the cool kids use.
Media Player Classic HC: Is that retro look and feel worth it?
If you want to be a tech hipster, you don't use VLC, you download Media Player Classic Home Cinema and then nod to others about how cool you are. That's no surprise when the player itself is an homage to Windows Media Player 6.4, which shipped with Windows 95. Yes, it's designed to mimic the look and feel of Windows 95. So yeah, hipsters.
Like VLC, PotPlayer and others, it's flexible, powerful and tweakable. It's also slightly more efficient than VLC in battery life. It's not a game-changer, but if you had to pick something that gives you better life and isn't establishment, Media Player Classic HC would be it.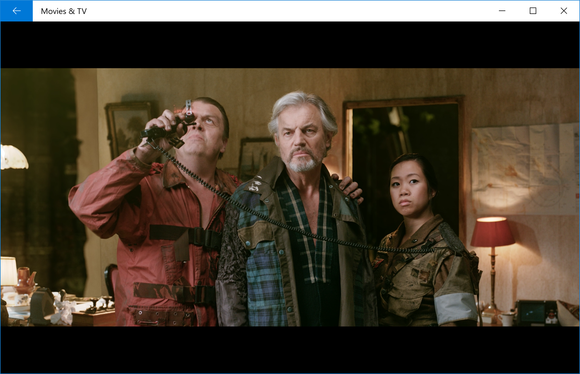 The winner here by a huge margin is Windows 10 Movies & TV player.
Microsoft Movies & TV: Boring, but stupidly more efficient
The winner here is Windows 10's built-in Movies & TV player. And by win, I don't mean squeaked ahead by a few minutes like how Media Player Classic HC outruns VLC. I mean a massive, undeniable advantage in battery life even a fan boy can't deny. One look at this chart should prove my point.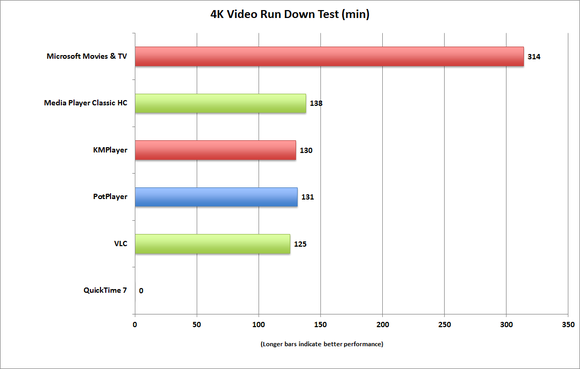 In our video player shootout, Windows 10's default video player rolls up the competition and puts them in the trash. (Click to expand).
That long bar on top? That's the look of Microsoft's Movies & TV player kicking everyone's butt. When you're looking at just over two hours of run time with VLC versus more than five for Movies & TV Player there's just no reason to run VLC with higher-quality files if you're unplugged. The gulf between Movies & TV Player and the freebies is likely to close as the quality of the file goes down, but again, referencing Schiesser's tests, the Windows 8 media player won then by a hefty margin.
I will say that with less punishing video resolutions, you could eke more battery life out of the other free players. Windows 10 Movies & TV play will still win, rhough.
Previous Page 1 2 3 4 Next Page