Sunrise Calendar is gone, and Microsoft Outlook can't replace it
Contrary to Microsoft's word, Outlook has not adopted Sunrise's more popular features.
When Microsoft announced that it would shut down Sunrise Calendar after acquiring the app last year, the company assured users that they wouldn't miss much.
Originally, Microsoft promised that all Sunrise features would become part of the Outlook mail and calendar app on iOS and Android. Only after the two apps achieved feature parity would Microsoft stop supporting Sunrise for existing users. ("We will leave Sunrise in market until its features are fully integrated into Outlook, the exact timing of which we will communicate in advance," Microsoft said in an October 2015 blog post.)
On August 31, it seems Microsoft will break that promise. As of this writing, Outlook is missing several of Sunrise's most important features, along with some clever touches that made Sunrise more enjoyable to use. While a best-in-breed calendar was the sole focus of Sunrise, the calendar in Outlook still seems like a second-class citizen.
Short of a massive feature update for Outlook, or a stay of execution for Sunrise, here's what users stand to lose as Sunrise shuts down:
(Update: Microsoft says Sunrise Calendar will not shut down on August 31 after all. "[W]e have chosen to wait a little longer in order to deliver a few more Sunrise-inspired features in Outlook," the company told PCWorld. "Once those features are released, the Sunrise app will officially be shut down.")
App integrations
One of Sunrise's best features was its integration with third-party services. From within your main calendar view, you could see travel plans from TripIt, due dates from Trello, tasks from Todoist, concerts from Songkick, and more. In total, Sunrise hooks into 16 different services—a number that may have grown further had its developers continued working on the app.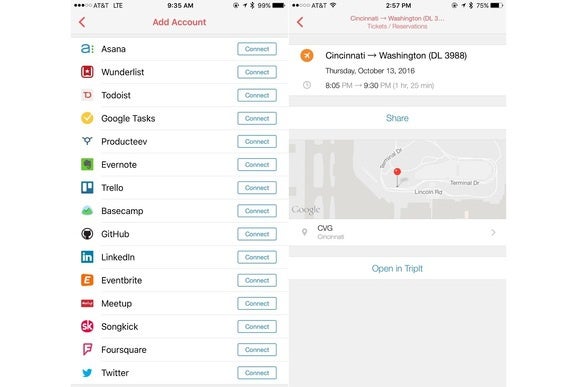 Microsoft Outlook, meanwhile, integrates with just three: Facebook, Evernote, and Wunderlist. The app integrations page has promised "more apps coming soon" for months now, but it's unclear whether Outlook will ever match what Sunrise had built.
Sure, you can hook up some of those services directly with your calendar provider. TripIt and Trello, for instance, both let you sync events with Google Calendar, iCloud, and others. The advantage with Sunrise is that it offered one convenient place to manage these tie-ins. Setting them all up separately is much more complicated.
Interesting calendars
In addition to your own calendars, Sunrise could display a variety of "interesting" calendars, including sporting events, TV schedules, religious holidays, and moon phases. Although Microsoft specifically called out interesting calendars as a feature it would add to Outlook before pulling the plug on Sunrise, that hasn't happened yet.