Suitcase Fusion 7 review: Font manager now with cloud access and plug-in for Adobe After Effects 2015
An important upgrade for current Suitcase Fusion users.
Auto-activate exact fonts in Adobe After Effect
Suitcase Fusion automatically activates fonts used in documents as you open them in any app, but it also provides special plug-ins for critical apps used by creative professionals. Many fonts are updated over time and it's essential in a professional workflow to use the exact version of a font when editing or printing an existing document. Suitcase Fusion's plug-ins embed detailed font identification information into each document so that Suitcase knows exactly which version of a font to activate when you reopen that document.
Version 7 adds a completely new plug-in for Adobe After Effects CC 2015, which is being used by more and more designers to create animated text. With this plug-in, you no longer need to remember which fonts were used in each composition, a giant benefit since After Effects on its own doesn't help you determine which fonts are missing. Another benefit is that when you close the composition, the plug-in deactivates the fonts it auto-activated.
As with earlier versions, Suitcase Fusion 7 includes auto-activation plug-ins for recent Adobe and Quark products, specifically: Photoshop, InDesign, InCopy and Illustrator (versions CS6 and higher), and QuarkXPress 10 and 2015. (Support for QuarkXPress 2016 is imminent.)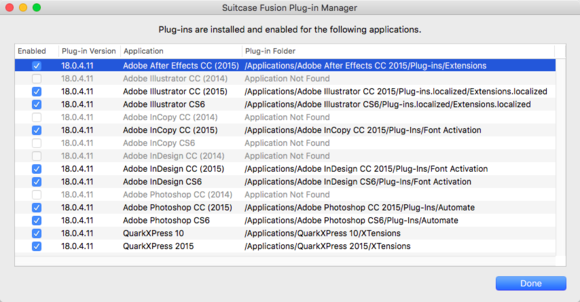 Suitcase Fusion 7's Plug-in Manager lets you control which of your apps you want to use Suitcase's plug-ins.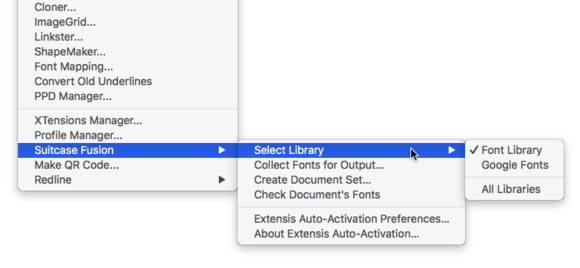 In addition to auto-activating fonts, Suitcase Fusion 7's plug-ins let you create a new font Set from the fonts used in a document, collect the fonts, check those fonts for corruption, and more. Here, it's shown in the Utilities menu in QuarkXPress 2016.
Suitcase TeamSync
Along with the release of Suitcase Fusion 7, Extensis also introduced a new product named Suitcase TeamSync, which gives members of a creative team access to a shared font library from anywhere with Internet access. (Internet access is only necessary to update a team member's font library; fonts are downloaded to the user's computer for offline use.)
This subscription-based service includes a copy of Suitcase Fusion 7 for each team member, which is automatically updated whenever Extensis releases a new version of Suitcase. Your team's TeamSync administrator uses a web browser to add or remove team members as needed and control permissions for each user: for example, whether they can add, remove or collect fonts for output.
Extensis claims that TeamSync is suitable for any size team, from two to infinity. However, it isn't intended to replace their Universal Type Server, which has significantly greater features and a higher price. Universal Type Server also requires you to have an on-site server, while TeamSync stores your fonts on Extensis' servers and delivers them to you over the Internet.