Suitcase Fusion 7 review: Font manager now with cloud access and plug-in for Adobe After Effects 2015
An important upgrade for current Suitcase Fusion users.
Suitcase Fusion 7 is a powerhouse of a font manager, with features that extend a million pixels wide and at least several picas deep. Version 7 adds support for the newest Mac and Windows operating systems, automatic cloud-based backup and syncing, and a new plug-in for Adobe After Effects. However, these new features just add icing to the cake that was Suitcase Fusion 6.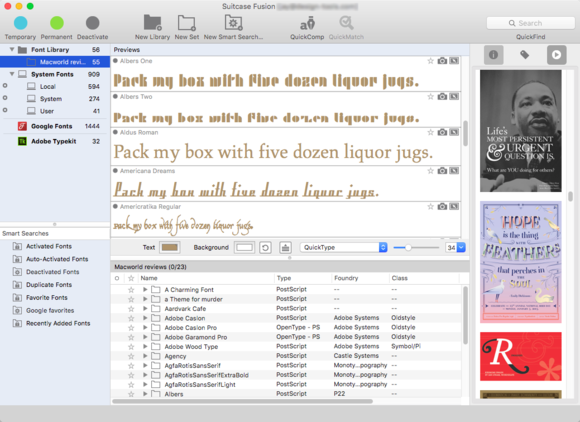 The Suitcase Fusion 7 interface is only slightly different from the previous version. Smart Sets have been renamed Smart Searches and appear in their own section in the left panel. The Fontspiration panel on the right remains an inspiring, scrolling gallery of exceptional font art created by Extensis and others. Hover over one to see its designer and typefaces, or click to see a full-size version at the Pinterest website.
TypeSync
Because many designers work on multiple computers and need to have access to the same fonts and font environment in multiple locations, Suitcase Fusion 7 includes a two-location license. To simplify using the same font library on two computers, version 7 adds the TypeSync feature. When enabled, TypeSync backs up all your fonts and Suitcase setup to a server hosted by Extensis and updates your backup every 15 minutes. You can then access your library from any computer running Suitcase Fusion 7; just log into Extensis' server from the second computer for immediate access to your fonts and Suitcase setup. (If you need to quickly bolt from your current location after making changes in Suitcase, you can also manually force an update.)
Both the initial backup and subsequent updates occur quickly, because if the Extensis server already has a copy of your font, it simply notes that you own a copy and doesn't upload yours. (It's interesting to note that because of TypeSync, Extensis will soon maintain the largest font collection in the known universe.)
The new TypeSync feature doesn't replace the Archive and Restore feature introduced in version 6, which lets you copy your entire Font Vault to your Dropbox or Google Drive, and then restore it on another computer. This frozen archive of your Suitcase setup is mostly useful for migrating from one computer to another.

When enabled, TypeSync stores a copy of all your fonts on Extensis' server. You can then log into your library from any computer running Suitcase Fusion 7 and download your fonts.
To facilitate accessing your fonts from any computer, Suitcase Fusion 7 no longer uses serial numbers for registration. Instead, you install Suitcase, create an account at Extensis.com, and then log in to use it on your current computer.