StoAmigo Tack App review: Cloud convenience and remote access to Mac files, but software is unintuitive
Tack App by StoAmigo takes a slightly different approach to the cloud.
Tapping any item offers a preview of the file, but StoAmigo also makes it easy to privately share desktop content with a tap and hold. Files can be shared with a single person or an entire group, even if they don't have an account. Shared files can be set to expire on a date of your choosing or with a paid option, include two-factor authentication for additional security.
Although Tack App and StoAmigo mostly work as advertised, the user interface lacks the polish and maturity of cloud-based rivals. The mobile app, in particular, is prone to bugs when attempting to upload new content or copy items to another location, which consistently caused the app to become unresponsive for minutes at a time.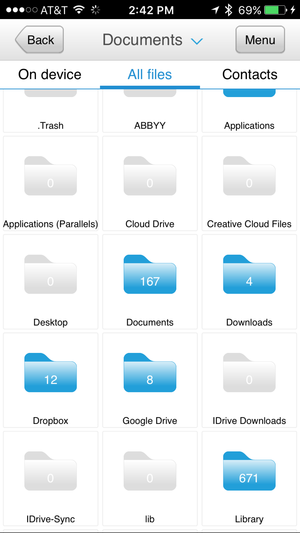 If you have a lot of invisible files on your Mac, there's no way to avoid seeing them from StoAmigo for iOS.
The Mac app is plagued by similar issues: Tack App includes a Finder extension for sharing items through a contextual menu, but these options tend to get lost behind other windows—when they work at all. If you really need to access and share files from your Mac and don't mind spending $10 every six months, I'd highly recommend Presence instead, which offers similar functionality in a more intuitive and user-friendly package.
Bottom line
Tack App is a potentially convenient way to access Mac or PC files without uploading them to the cloud but fails to live up to expectations when it comes to the little things that matter.