Smart home service provider Vivint introduces Sky, for an even smarter smart home
Leveraging sensors, door locks, thermostats, Amazon's Alexa, and other components, Sky promises to create an intelligent home.
The third wave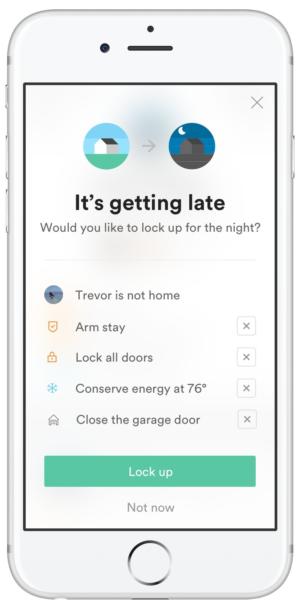 Vivint Sky will be proactive when it comes to securing your home while leaving you in ultimate control.
Eyring characterized Sky as the third wave of smart home development. "The connected home was the first wave. Voice control with the Amazon Echo and Google Home was next. Phase three is the first time we're really seeing a smart home, one that's actually learning and interacting. It's not just executing scripts or depending on you to pull up an app and push buttons. Today, you have to remember that you forgot something. The real smart home will know these things and do them for you while keeping you in the loop. It's more than just a remote control."
Vivint doesn't intend to compete with products such as the Echo or Google Home; it will incorporate those devices instead. "We think of the Echo and Google Home the same way we think of Android OS," said Warren. "We're not going to reinvent smart speakers or voice control, but we want those things to be included." While Vivint offers its own smart thermostat, it can also incorporate the Nest Learning Thermostat into its system.
Vivint's existing smart home offering already incorporates the Echo. You can tell Alexa to turn smart lights on and off, lock smart deadbolts, control the thermostat, close your garage door, arm the security system itself, and more. But she won't unlock doors, open the garage door, or disarm the security system because that would leave you vulnerable. The Echo responds to voice commands, but it can't distinguish between residents and burglars.
In addition to having a motion sensor, Vivint's Ping security camera can be used for two-way video conversations to a smartphone.
Vivint says Sky will be incorporated into its existing smart home offering at no additional cost, and that it will be rolled out starting in the second quarter of 2017.
"We're not looking for ways to upcharge people," Eyring said, "we just want to add value to the systems people already have." Vivint systems are professionally installed and generally require long-term contracts with monthly subscription payments (starting at $39.99 per month) in exchange for receiving some of the equipment for "free." You can compare Vivint's offerings here.