Smart city tech connects cars and bikes with big data at MWC
Innovators can put air quality sensors on bicycles, while wireless connections help pave the way for driverless cars.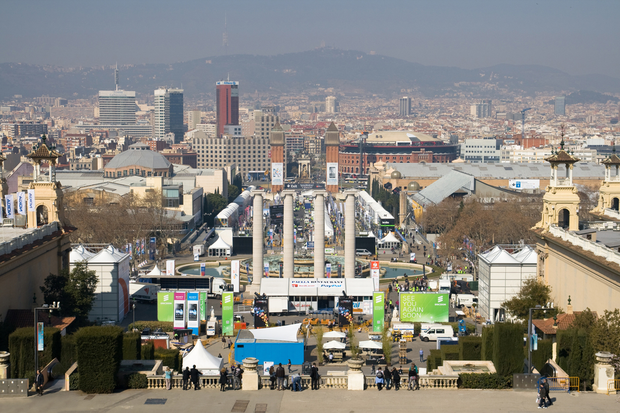 Smart city technologies are on display again at Mobile World Congress (MWC). This year, they are bigger than ever -- and more advanced.
AT&T and a host of smaller companies worked with the MWC's organizer, GSMA, to pull together dozens of Internet of Things (IoT) demonstrations in a major portion of Hall 3. The advances include taking data from cars on the road to help weather trackers, and augmenting that information with big data.
For example, if a car's wipers get turned on, that could be automatically transmitted to a database that would know historical cold weather patterns and whether the rain would quickly turn into ice. Then the data could deliver insights about whether that portion of the roadway is particularly curvy or hazardous in the best conditions. In turn, a road crew, or even emergency crews, might be automatically sent out to the area.
Inrix of Seattle, one of the smart city vendors, used a large display to show off the many sensors from various cars along such a roadway, with that data supplemented with info from stationary sensors along road.
Elsewhere in the exhibit, AT&T showed off an Audi sports car equipped with a dashboard display with the interface controlled from a rotating knob near the gear shifter. The carrier announced at MWC that it is working with Audi to expand its connected car connection to select Audi vehicles in 2017 and 2018. AT&T also announced another deal for 4G LTE connections in some 2017 Porsche models.
In an interview, AT&T Mobility CEO Glenn Lurie said the carrier has similar deals with nine car makers, putting it ahead of its rivals. "We started early," he said, to explain AT&T's success in providing connected device technologies.
The data being transmitted from cars to big data repositories will become vital in coming years, especially as self-driving cars emerge over the next decade or two, analysts said. Data from a crashed car could be used to automatically activate an emergency response quicker than now; meanwhile, sensors along roadways will also communicate information to passengers inside driverless cars.
AT&T also showed off package and baggage tracking examples, as well as proximity sensors to help track patterns of pedestrians or even workers inside of buildings. AT&T has even found interest from real estate companies in using beacons and Wi-Fi inside big buildings and malls to see which areas are being underused or have become crowded. That information could make a difference in planning for more space or using space more efficiently, said Stephen McGaw, chief marketing officer for business solutions at AT&T.