Sick of NBC's vapid Olympics coverage? Use Opera's built-in VPN and you can watch the BBC's coverage instead
"We'll have more from the Olympic Games in Rio after these messages from our sponsors."
Option two: Connecting Opera to the BBC
You've probably noticed that Opera's developer edition does not include a connection to the United Kingdom. This means you'll need a somewhat different setup to view BBC feeds. First, download and install Opera's "normal" browser. As we've already mentioned, Opera doesn't integrate its free VPN into this version, so you'll also need to download and install the SurfEasy VPN for Opera plugin, known as the SurfEasy Proxy. This plugin doesn't provide unlimited data—it caps you at 500MB per month—unless you jump through a few hoops: Tweeting about it, sharing it with another device, and performing similar chores can increase your cap to about 2GB per month, though.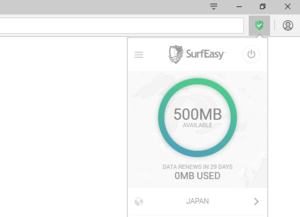 Mark Hachman
Opera's SurfEasy VPN can be turned on via an icon. If you'd like more data to play with, there are a number of ways to get it.
Once you've done all that, toggle on the VPN and then select the United Kingdom location. You'll then be able to select the BBC's Rio Olympics page and watch its feed.
Be aware, however, that the BBC might ask you to confirm that you've paid your TV license fee. The BBC funds its programming via taxes, and the £145.50 (about $189) TV license applies to just about every TV watcher in the United Kingdom. How you respond to that question is up to you. In my experience, the CBC appeared to make its broadcast open to anyone who accessed it via a Canadian IP address, no questions asked.
Option three: the Olympic Broadcasting Services
There are some situations in which NBC, the CBC, and the BBC aren't actually "broadcasting" the Games. The Olympic Broadcast Services is actually the "host" broadcaster of every Olympic Gamess, and it provides the video and audio of every event to broadcasters from around the world. Also known as the International Signal or the World Feed, the OBS provides "unbiased live radio and television coverage of every sport from every venue."
And that, in fact, is why watching the Olympics online can offer a much better experience than watching the Games on TV. In the case of the men's archery team competition, for example, I noticed that the same commentators were calling the competition in multiple countries—and doing a fine job of it, too. These were the OBS commentators.
NBC doesn't use them for any of its on-air coverage, but I used the Comcast X1 set-top box to "stream" the women's epee competition, and it appeared that that event used the OBS commentators, too. Online, even NBC uses the OBS for events like this first-round water polo map between Brazil and Serbia. Unfortunately, Comcast apparently assigns an intern to monitor the OBS feeds, for with every break, bang!—a flurry of ads appeared.
Previous Page 1 2 3 4 Next Page