Roxio Toast 15 review: Mac disc burning utility remains frozen in time
A suite of software tools for burning DVDs and managing digital media on the Mac.
There are two new members to the lineup: Slice, a basic editor for trimming video clips, and Secure Burn, a lightweight utility for saving password-protected files and folders to encrypted Mac-formatted discs or thumb drives. The latter includes a flat UI that nicely complements macOS (something Toast itself sorely needs), although it's a fairly basic affair; encrypted content can be accessed on other systems with a reader app included when a volume is written.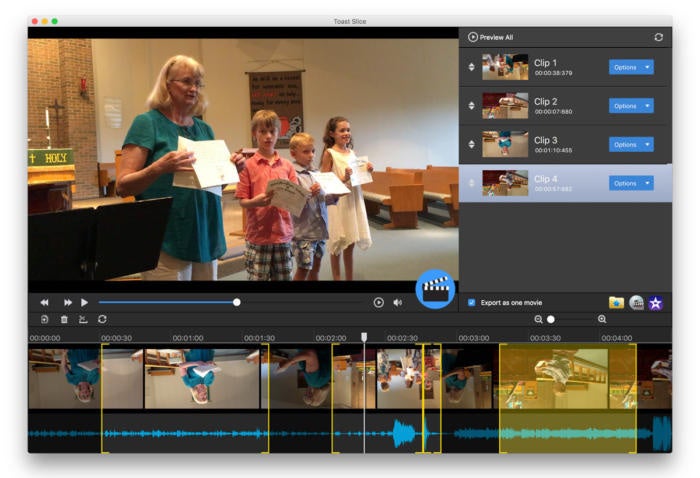 New to Toast 15, Slice makes it easy to trim videos down to size, but doesn't properly display content shot with the iPhone.
Slice, on the other hand, makes it easy to import one or more video clips, drag to select sections you want to keep, then export a new MP4 file after rearranging the resulting series of sequential clips. Unfortunately, the app has its own share of problems. Videos shot with the iPhone often don't maintain the correct orientation, and the quality of the exported file is quite poor.
Speaking of quality, Roxio appears to have taken a step backward here as well. I've had great results in the past using Toast to encode as well as burn discs, but the few I attempted with version 15 exhibited noticeably lower picture quality than previous releases.
Bottom line
If you already own a previous version of Toast that works fine, hold off upgrading until Roxio squashes the stability issues. Better yet, just skip this version and hope a complete overhaul is in the cards for next year.