Review: Nuance Dragon for Windows offers strong voice recognition
The latest version of the pricey but powerful voice recognition software for Windows continues to improve.
It is also confusing that when you create one of these shortcuts, it's called Auto-text, but when you want to edit it, you have to look for Custom commands. And if you want to add steps that cover multiple programs or need keyboard shortcuts, like creating an email and attaching a file, the feature is called MyCommands (even though it's part of the advanced section of the same dialog).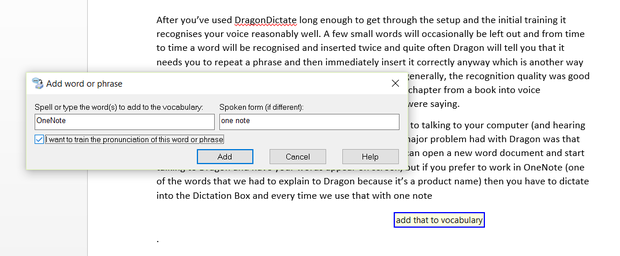 You can add custom vocabulary to Dragon's dictionary of recognizable words. (Click to expand).
You can also control what Dragon recognizes by adding words and phrases to its vocabulary. This ought to make Dragon more accurate when you're using names, addresses and product names -- but I found this didn't always work well. You can add words using the commands on the DragonBar, or you can open Dragon's Vocabulary Editor (also from the DragonBar) if you want to see what's already in the vocabulary and then add missing phrases. You speak the word, correct what Dragon recognizes it as and, if it's not getting it right, train the software by speaking the word several times.
However, when I tried to add OneNote to the Vocabulary Editor (it's a product name that Dragon didn't recognize) and train it specifically to recognize OneNote as a single word rather than two separate words, things didn't go as planned.
After I finished training it by saying "OneNote" half a dozen times, I tried to use it in my document. Dragon could find the instance of the word "OneNote" that I had previously corrected, but not any of the instances that I had entered into the document after it was trained. I removed the word from its vocabulary and tried again, and this time Dragon could recognize all the instances of "OneNote" in the document, but it still didn't suggest the correct capitalization for those words, and it didn't recognize the word correctly when I was dictating either. I had no more success by entering OneNote as an Auto-text expansion.
Finally, the third time I added it as a custom word, Dragon began to recognize OneNote correctly at least some of the time. So you may need to invest more time than you expect in training the system for your custom words.
Transcriptions and syncing shortcuts
Dragon learns your voice profile and should continue to improve slightly as you use it, although I didn't see a noticeable difference over the approximately three weeks of testing. You can also use it to transcribe audio files recorded with your voice or from another speaker, and you can have Dragon watch a specific folder and automatically transcribe files you drop into it.
Previous Page 1 2 3 4 5 6 7 Next Page