Review: Nuance Dragon for Windows offers strong voice recognition
The latest version of the pricey but powerful voice recognition software for Windows continues to improve.
Once installed, Dragon puts a floating window that it calls the DragonBar at the top of the screen to indicate that the voice recognition software is running.
Most of the time, the bar collapses to an icon that shows only whether the microphone is on and what it's listening for; hover your cursor over it to show the full controls. You can use your voice to open menus and choose commands on the DragonBar to change options in Dragon. You can also turn the microphone off with your voice, or put it to sleep (but of course, once the mic is off you can't turn it back on with a voice command). The DragonBar will also show tips -- for example, it will issue a warning if you can't dictate into the application you're using doesn't allow dictation.
Once the DragonBar is up, you can start using commands like "Start menu," "Open Microsoft Excel," "Post to Twitter" or "Scroll down" to control your computer, or start dictating text within an application.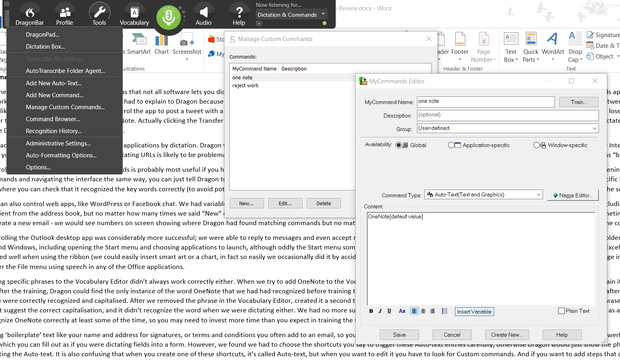 Dragon puts a floating window that it calls the DragonBar at the top of the screen that indicates that the voice recognition software is running and offers access to various features. Click on image to enlarge.
Whether you're dictating or controlling your computer, you can use a voice command at any point to ask Dragon what you can say; you can get a list of commands to say for navigation, formatting and punctuation as well as correction, and making the most of the software is mostly a question of getting into the habit of using those rather than switching back to keyboard or mouse.
Accuracy can depend on application
One of the major drawbacks with Dragon is that not all software lets you dictate into it automatically.
You can open a new Word or Notepad document, start talking and have your words appear directly in your document. But if you prefer to work in an app like OneNote, then you have to dictate into the Dictation Box, which is a floating window that automatically appears when you talk at any application Dragon can't insert text into directly. What you say is recognized and shows up in the Dictation Box, but it's much less convenient than dictating straight into an application like Word or Outlook, because once you've finished speaking you need to remember to move what you've said into your application, using the Transfer button in the dialog.
In testing, that worked well with some apps -- I was able to dictate tweets even into Windows apps like Tweetium, although I couldn't control the app to post a tweet with a voice command.
Previous Page 1 2 3 4 5 6 7 Next Page