Review: In Office 2016 for Windows, collaboration takes center stage
Long available in rivals such as Google Docs, real-time collaborative editing finally comes to Microsoft Office, along with a handful of other useful improvements.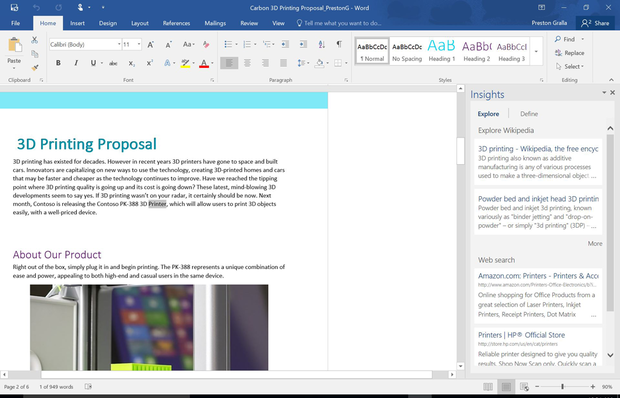 Smart Lookup shows Bing search results when you right-click on a word or phrase in an Office 2016 document.
Other changes
There have been a number of other minor changes as well. In a cosmetic one, the Ribbon across the top of the program windows and in the title bars now has solid color in it rather than white. Each Office application has its own distinct color: blue for Word, green for Excel and red for PowerPoint, with Outlook a lighter shade of blue than Word's. In addition, the menu text for the Ribbon (File, Home, Insert and so on) is a mix of upper- and lowercase rather than all caps, and it's smaller than previously. Overall, I found it slightly more restful on the eyes than the previous version of Office.
Sway, the free presentation application for creating interactive presentations that Microsoft released in January, now ships with Office. It's no different than the current version of Sway, and there's no integration between the rest of Office and Sway, so it's a bit of an outlier. Microsoft says that eventually it will be integrated with the rest of the suite, but doesn't yet have any details about how that will work.
Spreadsheet jockeys will be pleased to see that Excel has six new charts, including a histogram (frequently used in statistics), one called "waterfall" that's effective at showing running financial totals, and a hierarchical treemap designed to visualize revenue sources.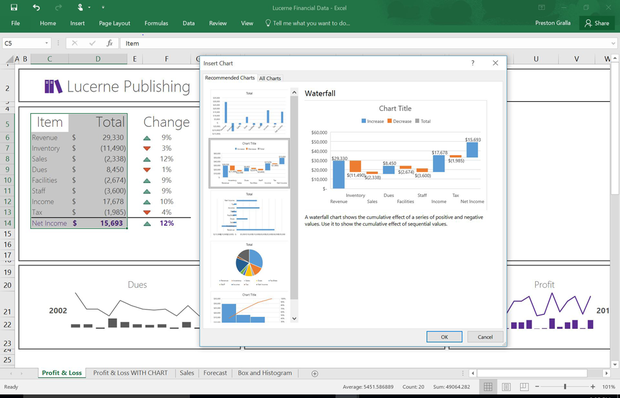 Excel offers six new types of charts.
I found a smaller addition quite useful as well. In what Microsoft calls the backstage area (it appears when you click "File" on the Ribbon), when you perform tasks such as opening a file, you see all of the cloud-based services you've connected to your account, such as SharePoint and OneDrive. That isn't new – the feature was already in the 2013 version of Office. What is new, though, is that each of those locations now shows the associated email address underneath it -- very helpful if you use a cloud service with more than one account. For example, I have two OneDrive accounts, one personal and one for business, and it lets me see at a glance which is which.
In addition, if an enterprise IT department configures Office to enable it, the Windows 10 digital assistant Cortana integrates with Office, and can do things such as tell you what meetings and tasks you have that day.
What's new for IT folks
IT will be pleased with a number of under-the-hood improvements made in Office 2016. Perhaps the one that IT will welcome most is the extension of data loss protection (DLP) features to Word, PowerPoint and Excel. Until now, DLP has been available only in communications-oriented tools, including Exchange, SharePoint, Outlook and OneDrive for Business. With Office 2016, DLP will allow IT administrators to create policies that govern document sharing and content authoring in Word, PowerPoint and Excel. So they'll be able to control what kinds of information different users and different groups can include in the documents they create, and can also limit whom the documents are shared with and where they can be shared.
Previous Page 1 2 3 4 5 6 7 Next Page