Review: In Office 2016 for Windows, collaboration takes center stage
Long available in rivals such as Google Docs, real-time collaborative editing finally comes to Microsoft Office, along with a handful of other useful improvements.
Business versions of Outlook also now have a Groups folder, which displays all the groups of which you're a member. Each group has a list of all the conversation threads, meeting requests and videos in which you've participated. From the Home tab on Outlook's ribbon, you can also go to the group's calendar, OneDrive or OneNote.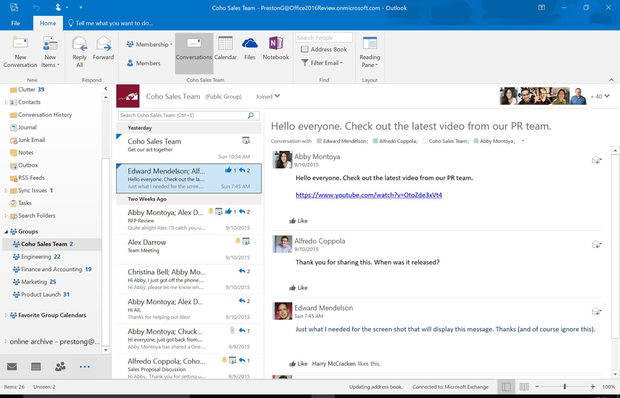 Outlook's new Groups folder shows you conversations, meetings and more for the various groups you're in.
Tell Me and Smart Lookup
One of my favorite additions to Office 2016 is a small one that can pack a big wallop: Tell Me. It's a text box on the top right of Office documents with the words "Tell me what you want to do" in it. Type in a task you want to do, and you get a list of potential matches. Click any item in the list and you bring up instructions on how to accomplish it. For example, I typed in "Envelope" while in Word and got the options "Create Envelopes" and "Start Mail Merge." I clicked each of the options, and was walked through the process of doing each task. Simple, clean and useful.
I found this new feature to be a big time-saver, and much better than hunting through the Ribbon to find a command. It remembers the features you've previously clicked on in the box, so when you click in it, you first see a list of previous tasks you've searched for. That way, tasks that you frequently perform are always within easy reach. Maybe even more useful is that tasks that you rarely perform are easily within reach as well, because now you don't have to be an Office expert in order to accomplish the most arcane tasks. Just type in what you want to do and follow the instructions.
The feature is available in Excel, Word and PowerPoint, but not the rest of Office. Outlook in particular could use it, given the wealth of features it has that aren't always immediately apparent.
Another new feature, Smart Lookup, makes it a bit easier to do research or fact-checking while you're working on a document. Right-click a word or group of words in Word, PowerPoint or Excel, and from the menu that appears, select Smart Lookup. Office then does a Bing search on the word or phrase and displays the results in a pane on the right-hand side of the page. In searching, Smart Lookup uses the context around the words, not just the words themselves, and so is designed to give you more relevant results.
For instance, in PowerPoint when I selected the word "carbon" in a slide about carbon bonds in organic compounds, it was smart enough to bring up results for carbon-carbon bonds and carbon-hydrogen bonds from Wikipedia. In a Word document about 3D printing, when I used Smart Lookup to look up the word "printer," it brought up Wikipedia results about 3D printing.
Previous Page 1 2 3 4 5 6 7 Next Page