Review: In Office 2016 for Windows, collaboration takes center stage
Long available in rivals such as Google Docs, real-time collaborative editing finally comes to Microsoft Office, along with a handful of other useful improvements.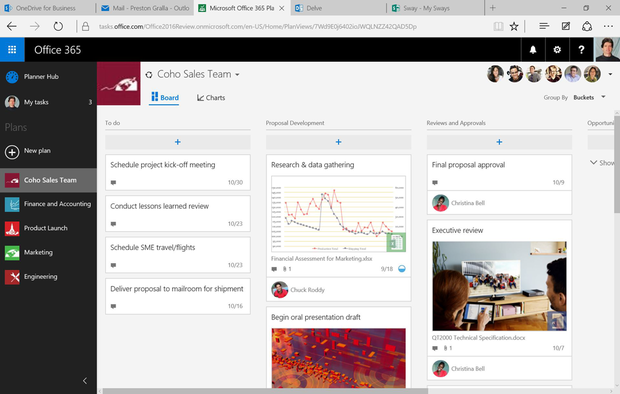 Office 365 Planner gives you an overview of ongoing projects, including task assignments, schedules, reviews and approvals.
Those among us who work in very organized groups and companies will welcome this. As for me, looking at it and thinking of the work required merely to maintain it makes me want to take a coffee break – for about 3 hours.
Changes in Outlook
All this isn't to say that the new features in Office are focused only on collaboration. There are also changes to a number of the core applications as well. Outlook gets the most new features, which are moderately helpful.
Email's bane is mail overload, and the new Outlook has a step to try and reduce it. It creates a "Clutter" folder where it automatically sends selected email, bypassing the Inbox folder. When you first run Outlook 2016, it takes a guess at what messages to put there, such as promotional or advertising-based email. Over time, though, Outlook watches how you handle your mail – which documents you open right away and which you tend to ignore, delete or open much later. It then automatically moves the type of mail you ignore or delete into Clutter, so you can check it at your leisure. You can instead focus on the important mail in your Inbox.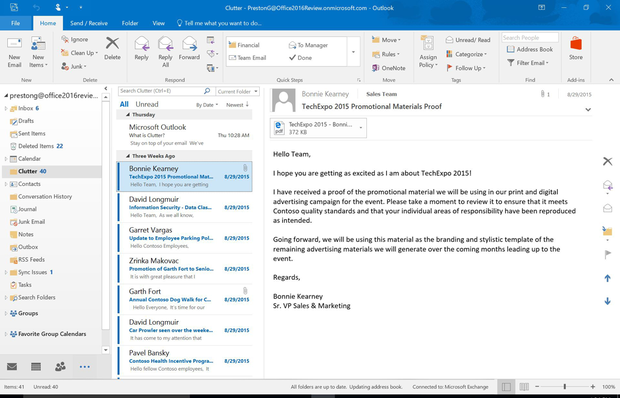 Outlook attempts to tame email overload with a new "Clutter" folder.
Especially at first, it's a good idea to check the Clutter folder periodically to be sure no important messages have been diverted there. If they have, you can move them to your Inbox, teaching Outlook which emails you want to keep.
I didn't use Outlook for long enough to see how accurately it assessed which of my messages to assign to Clutter. However, assuming it works right, it would certainly be a productivity-enhancer.
There have been a few other changes. When you compose an email and click Insert --> Attach File, you'll see a list of all the recent files that you've used in Office – a great time-saver given that there's a good chance that you'll be attaching a file you've recently been working on.
You can also attach files from the cloud, either OneDrive or SharePoint. In the list of recent files, documents from the cloud have a small cloud icon on them. When you share these cloud-based files, you also have the option to share them as view-only or to give recipients full edit rights. When someone opens a cloud-based file, they open it from the cloud, and read it and edit it in the cloud, not as a local document.
Previous Page 1 2 3 4 5 6 7 Next Page