Review: In Office 2016 for Windows, collaboration takes center stage
Long available in rivals such as Google Docs, real-time collaborative editing finally comes to Microsoft Office, along with a handful of other useful improvements.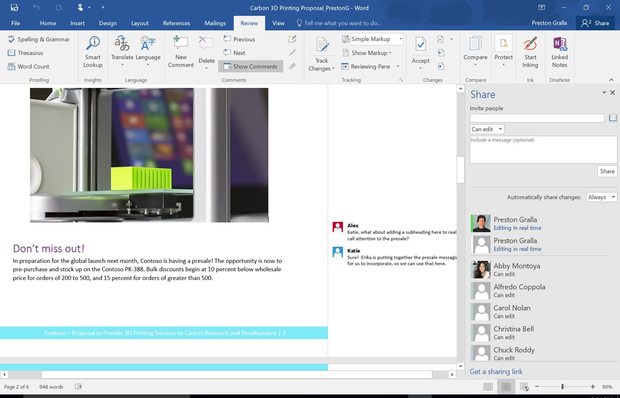 The Share pane lets you share files with other people, and lists those who have rights to share the file you're currently working on.
When you're working on a document with other people, you'll see a colored cursor in the document where they are working on it. Each person gets their own color. You can see what they do as they do it, including deleting, editing and adding text. They see what you do as well. Down the side of the pane, you'll see a list of people who have editing access to the document. Those who are currently in the document have a colored bar next to their icon. That bar matches the color of the cursor you'll see as they move around in the document.
A nice touch is that the person with whom you're sharing a document doesn't have to have Office 2016. They can collaborate with you using the free Web-based version of Office, available at office.com. Just send them a link to the shared document, and when they click on the link, it opens in the Web version of Office.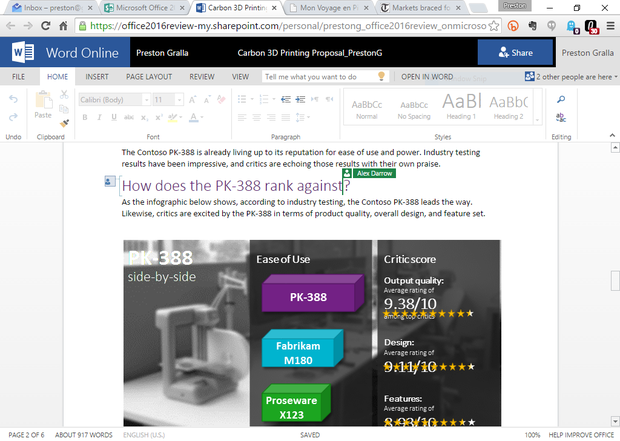 You can collaborate on a file with someone who uses the Web version of Office, not just the Office 2016 version.
And collaboration extends beyond the editing screen. Click on the icon of anyone currently working on the document and a screen pops out with the various ways you can contact them, including via Skype for Business texting, Skype for Business phone calling, a Skype for Business video session or email. That way, you can talk or text with them (or email if you don't want to do it live) while you're working on the document, making it much easier to collaborate.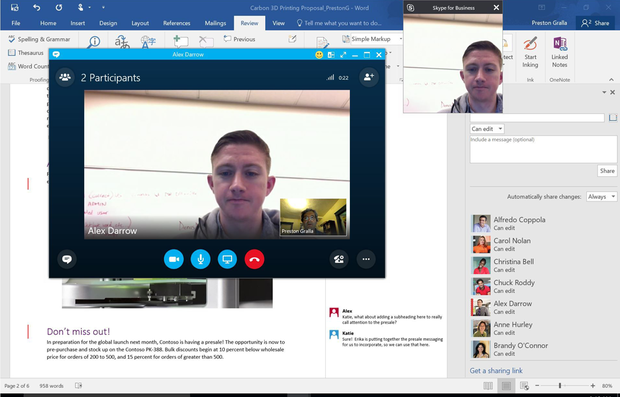 It's easy to fire up a Skype for Business session with someone with whom you're collaborating on a file.
I found it exceptionally easy to work with others this way. That doesn't mean, though, that I personally found it useful. When it comes to real-time collaboration on documents, I'm often a loner and a believer in the "a camel is a horse created by a committee" dictum, so I won't use this feature much. But those who prize working with others live on documents will find it extremely useful.
One thing to keep in mind is that the strength of your Internet connection will play a role in how well this feature works. In my tests, I used a laptop connected to my router via Wi-Fi and a desktop machine connected via Ethernet cable to collaborate on a document with someone across the country. Sometimes when the other person made changes, my wirelessly connected laptop didn't show the edits right away, but my desktop did. That isn't to fault Office, but instead to point out the sometimes flaky nature of networks. The lesson here: As with everything else related to Wi-Fi, network connections and the Internet, expect there to be glitches and lags.
Previous Page 1 2 3 4 5 6 7 Next Page