Review: 4 SaaS business-planning tools
These cloud-based tools can drop all the data for your business plan or product launch into one application and share it with your team.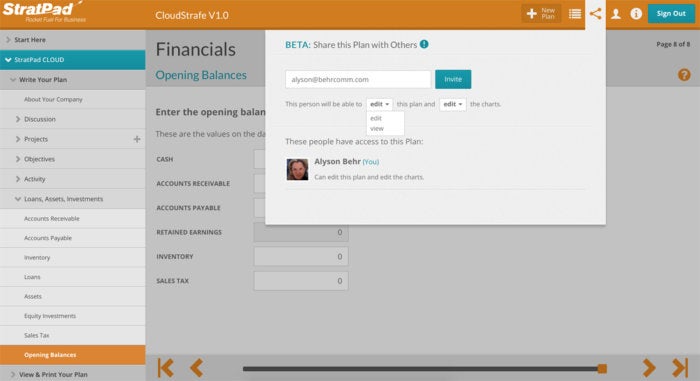 You can share your plan with someone via email using the dropdown menu, provided your subscription plan allows adding users. Credit: IDG
Most of the sections you need to complete are in the vertical navigation menu. It immediately takes you to a screen for completing customer/client descriptions and then dives into standard problem, solution and competitor information that helps define product differentiators for use in marketing messaging, and even product development. I did like that it took me directly to these facets of the plan before addressing the financial aspects, because it helped clarify markets and customer targets, which made it easier for me to assess revenue streams attached to those customer types. Having a well-thought-out business plan and strategy to back it up led to more accurate financial data and forecasts.
After all the groundwork has been done, StratPad gives you a great way to map out your plan in different phases (although it uses the word "project" instead of "phase"). For instance, let's say that from January through March you're building your product. That's one project. A second project might be the marketing phase. That might start in March and be ongoing, or it could overlap, so that it begins before the product build project is completed. In essence, StratPad has added a project management toolkit to its business plan tool, a feature none of the other products in this roundup has.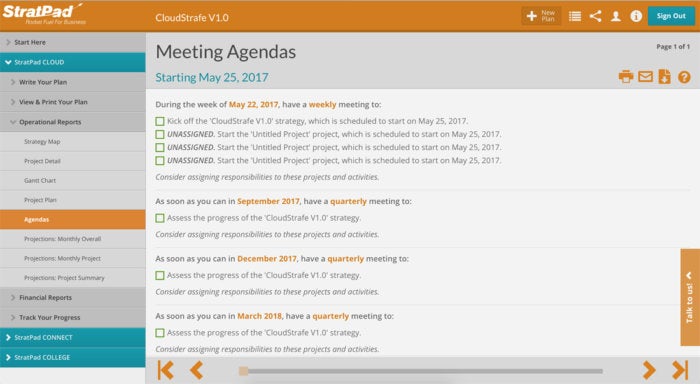 The Meeting Agenda page gives you an immediate picture of what meetings are coming up so you are sure to have your deliverables and can prepare for them. Credit: IDG
It disappointed me that there wasn't a way to import data such as project revenue and expenses from an Excel sheet. You have to enter that data manually, but once it's all in the app, it will let you export it back to Excel. The reports include standard profit/loss, monthly worksheets and income statements as well as overall strategic diagrams, Gantt charts and meeting agendas from your various projects.
Just in case you were wondering about tech support and tutorials, StratPad College is a great collection of videos, tutorials and other content that will persuade the entrepreneurial spirit in you to write and plan in elaborate style.
Bottom line
StratPad is a great business-planning tool if you already have strong ideas about direction and don't mind a little extra data entry. The project-planning piece is a nice touch, and you can't beat the price for the basic version.
Previous Page 1 2 3 4 5 6 7 Next Page