Review: 4 SaaS business-planning tools
These cloud-based tools can drop all the data for your business plan or product launch into one application and share it with your team.
Another problem I encountered: When I input information such as "problem," "solution messaging" and "target market" in the Pitch section, it wasn't automatically applied to the Plan section. Having to rekey everything seems like a basic functional defect that could be easily addressed. The LivePlan help desk told me that the development team is working on this.
The Forecast section provides guidance and helpful advice as you establish revenue and expense expectations, including direct costs and personnel. You can create more than one forecast, which is helpful, since things rarely go as originally planned.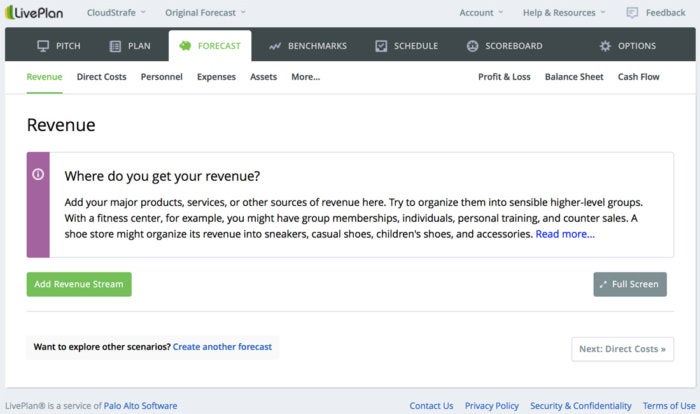 Add your product, service or other revenue sources here. Credit: IDG
I loved that the application challenged me to dive into competitive analysis in the Benchmarks section, because this is key to any new product's success. Just as important is speed to market, and the Schedule section keeps the team on track by providing email reminders of upcoming deadlines and late notices.
Once you start executing on the plan, the Scoreboard section will keep you apprised of whether you're doing better or worse than plan. Scoreboard is also the section where you hook your business plan up to accounting software; LivePlan integrates with QuickBooks and Xero in the event you have a separate account for your project.
I like that the service provides strong security and privacy measures, as described on its FAQ page.
Bottom line
LivePlan is a well-thought-out, feature-rich application with several customization options in each section and good tech support. Aside from the couple of hiccups I mentioned, LivePlan was a joy to work with, encouraged my entrepreneurial spirit and removed the tediousness of developing a plan.
At a glance
Palo Alto Software
Price: $19.95/mo. or $11.66/mo. billed annually
Assessment:
Pricing: A
Interface: A
Planning tools and guidance: A
Financial reports: B
Integration with accounting software: A
Team input and sharing options: B
StratPad Cloud
The company bills StratPad Cloud as "rocket fuel for business." Watered-down rocket fuel, I'd say, what with a user interface that's busier than it needs to be, making navigating between sections somewhat tedious until I caught on. I can forgive this, though, since the basic version is free.
The downside to free is that you can work with only one business plan and one user. But you can upgrade to a paid version at a reasonable cost. For example, if you choose annual billing you can pay $20 per month for five plans, or $40 for an unlimited number of plans. Each of these options includes additional user sharing.
Previous Page 1 2 3 4 5 6 7 Next Page