Review: 4 SaaS business-planning tools
These cloud-based tools can drop all the data for your business plan or product launch into one application and share it with your team.
When I got down into the Product & Sales subsection of the Add Info section, the app started trying to upsell me. It was annoying and cut into my flow, but I was using the free version, so that's to be expected. The Add Info section also has Marketing, Personnel and Financial Information subsections, all important, to complete.
View Reports gave me financial forecasts, ratios and a detailed report card of the plan I'd built. Finally, the View Your Plan section provided a preview of the plan and prepared it as a PDF.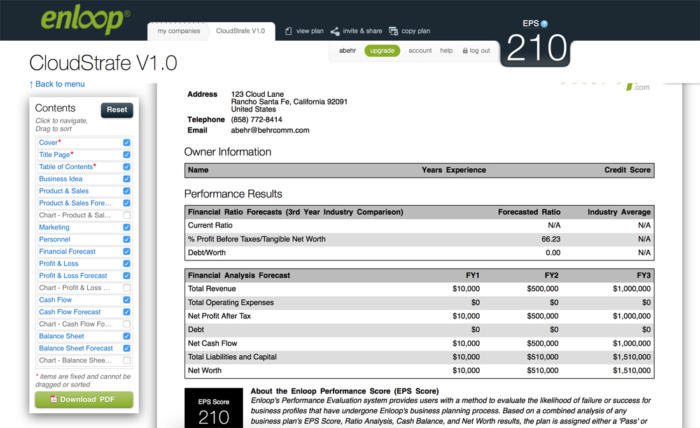 The Performance Results page, gives you Financial Ratio and Financial Analysis forecasts based on your preset and input revenue and expense data. Credit: IDG
Bottom line
Enloop is a great all-around SaaS business plan product. It's simple to figure out which subscription to buy, the UI is logically designed and organized, and it guides you intuitively through the process.
At a glance
Enloop
Price: Free & Easy plan: free; Basic plan: $9.95/mo. or $6/mo. billed annually; Advanced plan: $19.95/mo. or $11/mo. billed annually; Professional plan: $39.95/mo. or $24/mo. billed annually
Assessment:
Pricing: A
Interface: A
Planning tools and guidance: B
Financial reports: A
Integration with accounting software: A
Team input and sharing options: B
LivePlan
Palo Alto Software's LivePlan excelled for my purposes of building a product launch and go-to-market plan. LivePlan's most reasonable price is $11.66 per month when billed annually. You'll save 40% this way and get 60 days to try it, after which you will receive a 100% refund if you decide to end the subscription.
The application starts you off creating a "company," which in my case was a new product. Two team members can collaborate on the plan (even simultaneously), and an unlimited number of viewers can review your plan. You can also create multiple product or business plans, but you can only work on one of those plans at a time unless you pay an additional fee.
I input a forecast start and length, chose how much detail I wanted and designated a currency for calculations. Then came the fun part: diving into the plan.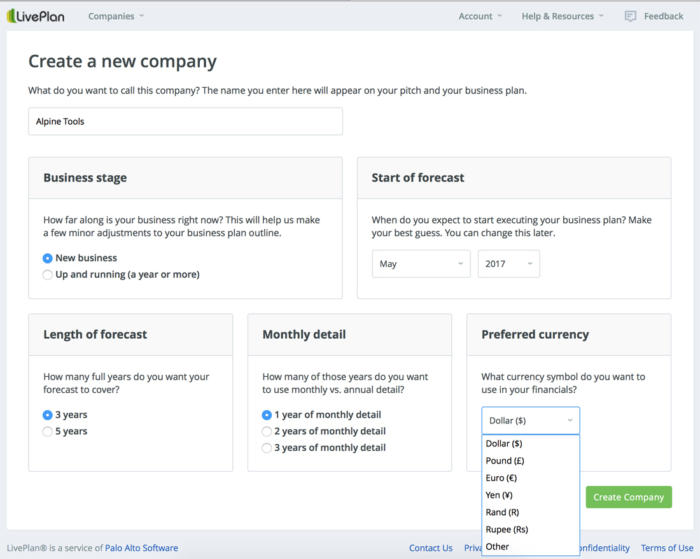 Create your company; input a forecast start, length and level of detail; and select your currency. Credit: IDG
LivePlan gives you several options, including Pitch, Plan, Forecast and Scoreboard, to use as your starting point. Because Pitch was the first option and I love marketing messaging, I chose to go that route. I decided to change the name of the company/product in the Pitch section — the main Pitch page prominently displays a button labeled "Click here to change your company name" — but the application wouldn't save it even after I selected Done. With IM chat help, I found a second way to accomplish this in the Options dropdown, and that was successful.
Previous Page 1 2 3 4 5 6 7 Next Page