Review: 4 SaaS business-planning tools
These cloud-based tools can drop all the data for your business plan or product launch into one application and share it with your team.
At a glance
Startups.co
Price: Starter plan: $19/mo. or $9.50/mo. billed annually; Business plan: $29/mo. or $14.50/mo. billed annually; Premium plan: $49/mo. or $24.50/mo. billed annually
Assessment:
Pricing: B
Interface: C
Planning tools and guidance: B
Financial reports: B
Integration with accounting software: A
Team input and sharing options: A
Enloop
Enloop's subscription pricing structure starts with a free version, then bumps to Basic ($6 per month when billed annually), Advanced ($11 per month billed annually) and Professional ($24 per month billed annually). The more you pay, the more functionality and number of users you get. What's appealing about this structure is that there isn't a trial period you have to keep track of, and you don't have to use your credit card just to explore the product.
If I were buying this to build product business plans that other team members needed to complete pieces of, I'd go with the Advanced plan. Let's face it, the head of a product marketing and development group is likely to be herding cats for more than one product's growth. You'll get five plans, five users, three financial ratio analyses per plan, rich text formatting, spell check in 16 languages and integration with QuickBooks Online. My mind was also put at ease by the company's published data security measures.
The user interface makes it super easy to get started. In setup, you choose forecast time frame and currency, invite your appropriate team members to the plan, and drop in your company logo. At each step during the setup phase, Enloop shows you what you can select and also entices with what's available in plans you didn't choose. This is cool, because you'll know right away, not down the road, if you need to upgrade to fill your needs. The Advanced plan gives you three years of monthly forecasting.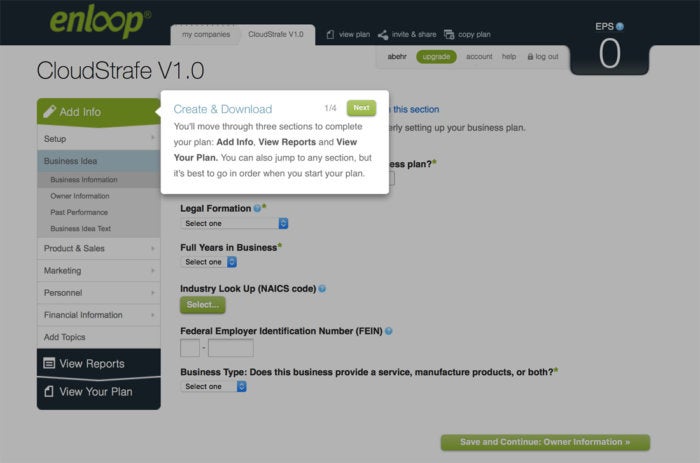 Add Info is the first of three major sections in the app; here you set up and input all your company information. Credit: IDG
Enloop has three main sections: Add Info, View Reports and View Your Plan. Enloop recommends that you complete the sections in the proper order, although, if you want, you can jump around. Popup windows guide you as you move through the app, in many cases defining the information it's asking you for, making it easy to complete. An advanced or higher-level user can use the edit controls to format text or insert copied content. I love that the content editor collects information you've input from earlier subsections and drops it into the Business Idea Text content-editing window so you don't have to rekey it.
Previous Page 1 2 3 4 5 6 7 Next Page