Review: 4 SaaS business-planning tools
These cloud-based tools can drop all the data for your business plan or product launch into one application and share it with your team.
For $14.50 a month (billed annually), the Business version of Bizplan lets you set up two different companies or products and share the data with up to four collaborators for each company or product and an unlimited number of viewers. The Premium version ($24.50 per month if billed annually) allows up to five companies or products, unlimited collaborators and unlimited viewers. (There's also a Starter plan for $9.50/mo. if billed annually, but it doesn't allow collaboration.)
Bizplan does not provide a trial period, and nope, no refunds if it does not suit your needs. That said, if you start with a month-to-month subscription ($29/mo. for the Business plan), you can cancel before your 30-day period is up to keep your trial expenses to a minimum.
The user interface is clean and simple, with its main navigational bar running vertically down the left side of the screen. The application's primary focus is on finance, which is the first section you're guided to set up after the basic product information.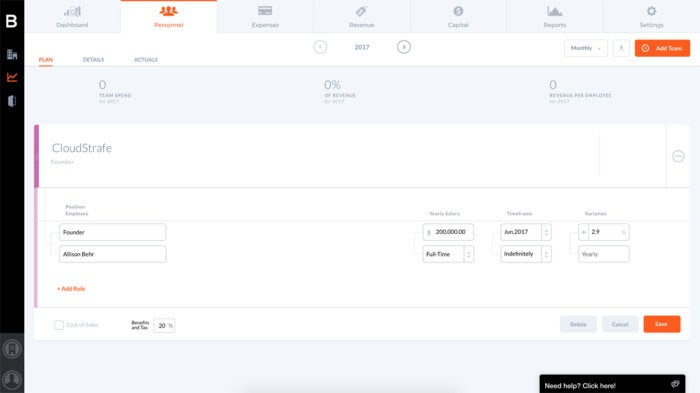 Access financial data such as personnel costs by selecting any one of the Finance subcategories: Personnel, Expenses, Revenue or Capital. Credit:IDG (Click any image to enlarge it.)
Financial data is categorized as personnel, expenses, revenue and capital, and clear definitions and descriptions of what data you need to input in each are provided. Sub-menus that lie beneath each of those four categories help you get a clear picture of where you stand. For example, under expenses is a section detailing what you planned and what the actual expenses were. Bizplan integrates with QuickBooks and Xero accounting software.
Next up was the business plan, which was divided into several sections, including the summary or pitch, problem, solution, market and customer target, and competitive analysis. I liked that it took the plan further, with strategy, risk and traction sections. Bizplan includes as traction things such as the addition of notable customers, user or customer growth, the current sales pipeline, strategic partnerships and press mentions. This information is important to include when validating product sales or discussing the product's road map or ongoing efforts with top-tier corporate executives.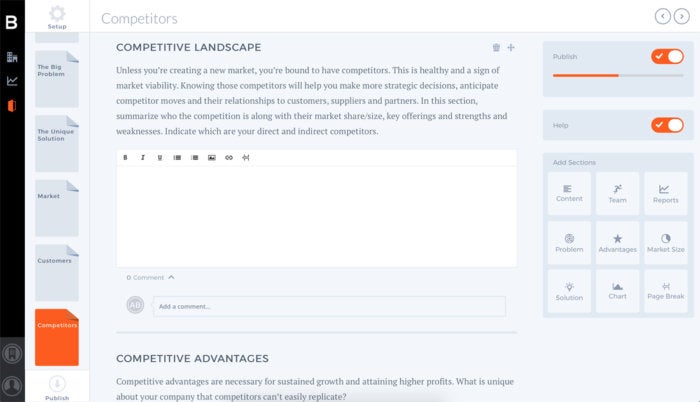 Understanding the competitive landscape will help you make more strategic decisions. Credit: IDG
Bottom line
Bizplan worked well for my new-product launch planning purposes. It gave sufficient descriptions and hand-holding to ensure that I ended up with a comprehensive plan. Startups.co has some great management and mentoring resources that any executive or manager could spend hours poking around in and learning from.
Previous Page 1 2 3 4 5 6 7 Next Page