Review: 3 financial tracking apps for busy contractors
It's important to keep track of your projects' time, expenses and invoicing. Here are three apps that could help.
The data invoiced for is the data that shows on the Quick Report. If you need to change the data, you'll have to go back and change it in the Quick Report.
OfficeTime has a number of handy features. For example, if you forget to stop the timer on a task, the next time the app senses activity, it will alert you that it had been timing for whatever amount of time it was passive, and ask whether you want to keep that time. Also, if you start the timer on another line item, it will pause the active timer, preventing you from inadvertently double-billing a client. The timer integrates with Apple iCalendar, Microsoft Outlook and other leading calendars.
Bottom line
OfficeTime is a capable solution and functions well as advertised. It's handy in that it records time as you go, negating the possibility of spending time that's not logged, and provides a means of invoicing for it. However, it doesn't integrate with any leading accounting software for tax preparation purposes or expense account tracking software.
At a Glance
OfficeTime
Price: $47 (vendor price)
Pros: Great timing and invoicing features; 21-day trial with a fixed price; good tutorials and support
Cons: Slight learning curve involved in getting up to speed; doesn't integrate easily with accounting software
Intuit makes several versions of its QuickBooks accounting software, including iterations for enterprise, SMB, retail e-commerce and a few other verticals. QuickBooks Self-Employed is cloud-based, specifically tailored to independent contractor requirements and reasonably priced -- at time of this writing, it cost $4.99/month. You can also sign up for TurboTax for $12.99/month on the QuickBooks site.
QuickBooks Self-Employed is a Web-based application with apps for Android and iOS.
The basics
The user interface is clean and intuitive. A vertical navigational column containing Home, Transactions, Miles, Taxes and Reports options runs down the left-hand side of the page.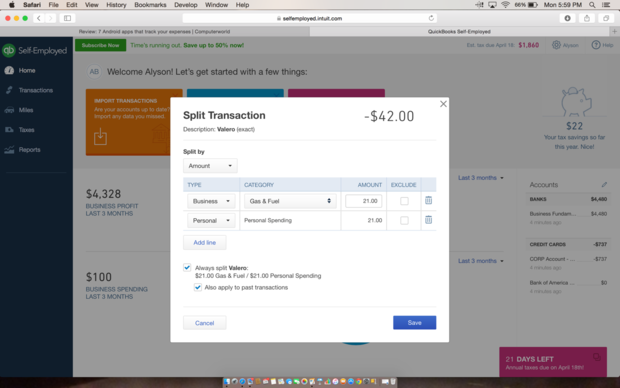 QuickBooks Self-Employed makes it easy to split business expenses from personal spending within a single bank account.
Across the top of the page you'll find, first and foremost, the estimated taxes-owed figure (so you don't forget Uncle Sam). The user profile is next and separates into subsections for transactions, taxes and actual profile information. Last is a help icon that contains a knowledge base and an email contact form.
The Home dashboard presents a logical information flow, prompting you to identify recent transactions first and then presenting you with your quarterly estimated tax burden. Below the tasks is an overview of your business's year-to-date profits and spending, and on the right-hand side of the page are bank accounts with balances.
Previous Page 1 2 3 4 5 6 Next Page